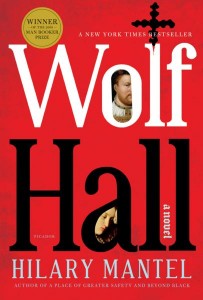 Just a quick post to let you all know that the Man Booker Prize winning "Wolf Hall" by Hilary Mantel is now available in the USA in paperback, published by Picador (Macmillan). It's great timing for those of you who are reading it this month as part of the Book Club that Alyssa is running on our forum – see Book Club. This novel also won the National Book Critics Circle Award For Fiction and is a New York Times Bestseller.
To celebrate the release in paperback, Picador Macmillan have got a page on their website – http://us.macmillan.com/wolfhall where you can:-
Read an excerpt of Wolf Hall – click here to read the excerpt.
Enjoy videos of Hilary Mantel talking about Wolf Hall and discussing Henry VIII with David Starkey – see Video Page
Download a Reading Group Guide – click here for the PDF which includes discussion questions, a useful timeline and details on the book and author.
You can also find out more about Hilary Mantel on her special Facebook page.
For those of you who don't know anything about "Wolf Hall", here is the publisher's blurb:-
"England in the 1520s is a heartbeat from disaster. If the king dies without a male heir, the country could be destroyed by civil war. Henry VIII wants to annul his marriage of twenty years and marry Anne Boleyn. The pope and most of Europe opposes him. Into this impasse steps Thomas Cromwell: a wholly original man, a charmer and a bully, both idealist and opportunist, astute in reading people, and implacable in his ambition. But Henry is volatile: one day tender, one day murderous. Cromwell helps him break the opposition, but what will be the price of his triumph?"
Availablility
Wolf Hall was published in paperback in the USA on the 31st August 2010 and is available from Picador direct (see links above for their Wolf Hall page), from Amazon US (click on cover image) or your favourite bookshop or library. It was released in paperback in the UK on the 4th March 2010 –click here for information from Amazon UK. The UK cover is white with a Tudor Rose.