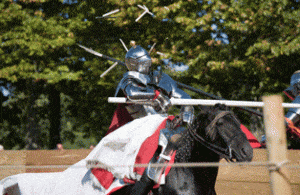 Enjoy the company of Henry VIII and Anne Boleyn this Bank Holiday Weekend (28th-30th August) at Hampton Court Palace at their special "Sport for the King with Anne Boleyn" weekend of activities. The Hampton Court Palace website has this to say about the weekend:-
"Love is in the air as Queen Anne prepares for a summer's day of festivities. When the King's talent at sport is challenged, a series of contests are set up to prove who is really the best knight.
The Tudor Tournament returns to Hampton Court Palace this bank holiday weekend. Cheer on knights in armour as they thunder across the field on their magnificent chargers.
Some of the activities keeping you and the King entertained over the bank holiday weekend include:
Tudor sword fighting
Knight school
Music and dancing
Fool shows
Wine from the new Wine Fountain much more…"
You can see and download the programme of events at http://www.hrp.org.uk/Resources/Order_of_Service_28-30_August_2.pdf but highlights include:-
The Great Tournament at midday and 4pm
The Fool Show at 12.30 and 3pm
The Court of Love – learn to play the game of Courtly Love with Queen Anne and her friends and family at 2pm
The Queen's Court – Queen Anne is entertained with music and dancing at 3pm
Find out more at the Hampton Court Palace website.