The slut shamed Anne Boleyn by Kyra Cornelius Kramer
Posted By Claire on March 6, 2015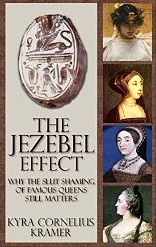 To celebrate the release of her new book The Jezebel Effect: Why the Slut Shaming of Famous Queens Still Matters on Kindle, Kyra Cornelius Kramer has written this thought-provoking guest article on Anne Boleyn for us here at The Anne Boleyn Files. I do hope you enjoy it. Over to Kyra…
In 1532 a priest named William Peto preached an Easter sermon in which he asserted that that Henry VIII and Anne Boleyn, who were in the congregation listening, were just like the Old Testament tyrant Ahab and his painted queen Jezebel.1 Ahab was considered to have been a king who had turned his face from the correct path of worshiping God, and it is was clearly an insult to Henry and a jab at his break from Catholicism. However, Jezebel was considered WORSE because she was seen as the harlot who had used sex to enslave Ahab and turn him from the Lord. Anne, like Jezebel, was therefore the scheming temptress who had dragged a formerly-good king down into the muck with her womanly wiles. In spite of the historical evidence to the contrary, Anne Boleyn's reputation as a jezebel and harlot has clung to her name like the stench of skunk spray for five centuries.
Anne Boleyn is, in the opinion of many, "the most controversial woman in English history. She is shaped by preoccupations with the mystery of female power, described as a witch, bitch, temptress, cold opportunist… a woman whose power is feared, her gender mistrusted".2 She has been castigated as "a whore, a home wrecker, [and] a soulless schemer".3. In novels and plays, on television and in the movies, Anne Boleyn continues to slink about as the ultimate femme fatale. Even today history buffs online comment that Anne was "a piece of work" who "deserved to die" because she poisoned Henry's first queen, calling Anne a "sociopath", "cruel and crazy", a "wack-job", a "horrible person" who "stole someone's husband", and "sly" … all before declaring Anne did things she patently and provably did not do.
In her book The Creation of Anne Boleyn, Susan Bordo talks about how many media representations of Anne, "inevitably led to recycling the image of Anne Boleyn as the seductive, scheming Other Woman. That's the classic soapy element of the story, after all: sexpot steals husband from mousy, menopausal first wife. [Michael Hirst, the creator of the Showtime series The Tudors] says he never intended this, and attributes it less to the script than to "deep cultural projections." He had initially seen Anne … as a victim of her father's ambitions, and believed he was writing the script to emphasize that. He was surprised when "critics started to trot this line out: 'here she is, just a manipulative bitch.' Well, actually I hadn't written it like that. But they couldn't get out of the stereotypes that had been handed down to them and that's what they thought they were seeing on the screen. It didn't matter what they were actually seeing. They had already decided that Anne Boleyn was this Other Woman, this manipulative bitch".4
Even some academic historians have jumped on the slut shaming bandwagon. In 2010 historical biographer G. W. Bernard wrote a book about Anne Boleyn in which he said, "it remains my own hunch that Anne had indeed committed adultery with Norris, probably with Smeaton, possibly with Weston, and was then the victim of the most appalling bad luck" of having her actions come to light.5 This led to tabloids and newspapers trumpeting headlines such as, "Anne Boleyn DID have an affair with her brother: The poem that 'proves' the adultery of Henry VIII's queen".6
The biggest flaw in Bernard's theory is that most of the dates during which Anne had been accused of having affairs can still be concretely disproved almost five centuries after the fact. On this very blog, Claire Ridgway has even compiled all the evidence against Anne to give an outline of the dates in which Anne supposedly had affairs in one handy post and shown them to be malarkey, yet these facts apparently don't count when contrasted to Bernard's "hunch".7
Considering the facts of the matter, what exactly did Anne Boleyn do to be called a trollop for five centuries? She refused to date a married man until she knew he was getting a divorce. She refused to have sex with her fiancé until he put a ring on her finger. She gave birth to a daughter and had two miscarriages (perhaps three). All the evidence shows she was innocent of the adultery and incest of which she was accused. What on earth did she do that made her the ever-ready villainess of Tudor myth?
Like any good slut shaming narrative, what she did is not as important as the cultural motif she can be shoehorned into. Any of her actions that flat-out contradict her supposed harlotry are ignored or dismissed. She refused to date a married king? Well, since Henry VIII didn't reward his mistresses as handsomely as did other royals, "it cannot be considered an act of great virtue that Anne showed no eagerness to become the king's mistress".8 Remained chaste? She was just keeping Henry entangled in her guileful web. Got her head chopped off? It's implicitly her fault for "miscarrying of her savior";9 if she had given Henry a son then he wouldn't have had to look for a reason to kill her. The constant cultural message underlying every negative interpretation of Anne Boleyn's life is that power-hungry strumpets get what's coming to them.
Even Henry's actions were her fault. Inasmuch as Henry "frequently made a public fool of himself in his fervor for Anne and his love for her",10 Anne has been blamed for "making" the king act like a buffoon. Much of the hatred of Anne Boleyn in her own time stems from the fact that a "love-struck middle-aged man was an unsettling sight. When that ageing man was a king… the uneasiness grew, for here was an all-powerful being in thrall to a woman… the obvious way to absolve that feeling of unseemliness in the spectator was to blame Anne".11
Everyone blamed Anne. Katherina blamed Anne for Henry's desire for a divorce. Wolsey blamed Anne for his political and economic losses, not the king and certainly not his own actions. Chapuys blamed Anne for the schism between Catholicism and England, not the actions of the Holy See that had inspired an entire reform movement throughout Europe. Princess Mary blamed Anne for the king's emotional cruelty toward his once pampered eldest child. A large chunk of the population blamed her for Henry's lusts. It must have been very hard for the English when Anne was dead, because she took the ultimate scapegoat with her to the grave.
Anne's true crimes were not those of sexual impropriety, but those of gender inversion. She was too "masculine" to be a good girl. A man — a king no less — fell in love with her and acted "feminine" in his adoration, which had to have been her fault somehow. She was too smart to be discounted, and she was determined to bring about religious reform that would flout the existing conventions. Like other evangelical women she was outspoken about her religious opinions. She made a mockery of the status quo. Everything that was supposed to mark the attributes of a "good girl" – that she be passive, demur, humble, effacing, docile, and dominated – were reversed in the bold and determined Anne Boleyn.
If she wasn't a "good girl", then Anne was by default a bad one. Bad girls are almost axiomatically called sluts because slut is the ultimate label of feminine badness. Since Anne was a bad girl, she was QED a slut. Once a woman has been labeled a slut, any sexual deviance – including incest and bestiality – can be attributed to her, creating a vicious circle wherein rumor of harlotry becomes "proof" that she is a harlot.
Anne Boleyn continues to be condemned as a trollop even today for fictitious sex with multiple lovers (one of whom was her own brother), but the real reason she is still slut shamed is because she defied gender norms and the ideology of 'natural' behavior in women.
Book Details
Blurb:
Have you heard that Catherine the Great died having sex with her horse? Or perhaps you prefer the story that Anne Boleyn had six fingers and slept with her brother? Or that Katheryn Howard slept with so many members of the Tudor court that they couldn't keep track of them all? As juicy and titillating as the tales might be, they are all, patently untrue.
Modern PR firms may claim that no publicity is bad publicity, but that, too, is untrue. The fact that Cleopatra is better known for her seductions than her statecraft, and that Jezebel is remembered as a painted trollop rather than a faithful wife and religiously devout queen, isn't a way for historians to keep these interesting women in the public eye, rather it's a subversion of their power, a re-writing of history to belittle and shame these powerful figures, preventing them from becoming icons of feminine strength and capability.
Slut shaming has its roots in our earliest history, but it continues to flourish in our supposedly post-feminist, equal-rights world. It is used to punish women for transgressions against gender norms, threatening the security of their place in society and warning that they'd better be "good girls" and not rock the patriarchal boat, or they, too could end up with people believing they've slept with everything from farm animals to relatives.
This is The Jezebel Effect.
File Size: 2873 KB
Print Length: 316 pages
Simultaneous Device Usage: Unlimited
Publisher: Ashwood Press (February 26, 2015)
Sold by: Amazon Digital Services, Inc.
Language: English
ASIN: B00U2NXG6K
Available from Amazon.com, Amazon UK and Amazon's other Kindle stores.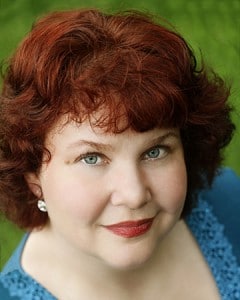 Kyra Cornelius Kramer is a freelance academic with BS degrees in both biology and anthropology from the University of Kentucky, as well as a MA in medical anthropology from Southern Methodist University. She has written essays on the agency of the Female Gothic heroine and women's bodies as feminist texts in the works of Jennifer Crusie. She has also co-authored two works; one with Dr. Laura Vivanco on the way in which the bodies of romance heroes and heroines act as the sites of reinforcement of, and resistance to, enculturated sexualities and gender ideologies, and another with Dr. Catrina Banks Whitley on Henry VIII – Blood Will Tell: A Medical Explanation of the Tyranny of Henry VIII.
Kyra is also a regular contributor for the Tudor Society's Tudor Life magazine.
If you enjoyed this article, you may also enjoy the following articles:
Notes and Sources
Bernard, G.W. 2010. Anne Boleyn: Fatal Attractions. Yale University Press.
Delahunty, Mary. 2013. "Liars, Witches and Trolls: On the Political Battlefield." In Griffith REVIEW 40: Women & Power, edited by Julianne Schultz. Text Publishing.
Lindsey, Karen. 1996. Divorced, Beheaded, Survived: A Feminist Reinterpretation of the Wives of Henry VIII. Da Capo Press.
Bordo, Susan. 2013. The Creation of Anne Boleyn: A New Look at England's Most Notorious Queen. Houghton Mifflin Harcourt.
Bernard, 2010
Hull, Liz. 2010. "Anne Boleyn DID have an affair with her brother: The poem that 'proves' the adultery of Henry VIII's queen". Mail Online, February 23.
The Middlesex and Kent Indictments – Do the Dates of the Alleged Crimes Make Sense?, The Anne Boleyn Files
Friedmann, Paul. 1884. Anne Boleyn: A Chapter of English History, 1527-1536.
Lipscomb, Suzannah. 2009. 1536: The Year that Changed Henry VIII. Lion Books.
Norton, Elizabeth. 2011. Anne Boleyn: Henry VIII's Obsession. Amberley Publishing Limited.
Dunn, Jane. 2007. Elizabeth and Mary: Cousins, Rivals, Queens. Knopf Doubleday Publishing Group.