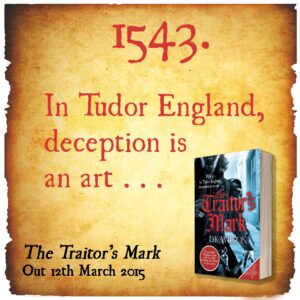 To celebrate the release tomorrow of the paperback of D. K. Wilson's The Traitor's Mark, Little Brown UK are offering three sets of books as giveaway prizes for Anne Boleyn Files followers.
The giveaway is open internationally and the sets consist of a copy each of The First Horseman and The Traitor's Mark, both of which are Tudor thrillers based in the reign of Henry VIII. As Alison Weir says, "If you liked Shardlake, you will love this exciting new series", and I completely agree. You can read my reviews over at our review site – click here.
Both books are inspired by real-life Tudor mysteries – the assassination of Robert Packington in 1536 and the disappearance of Hans Holbein in 1543 – and are gripping thrillers, I really couldn't put them down. To be in with a chance of winning a set of books, simply comment below saying who or what you'd like to read a Tudor history thriller about. Comment before midnight (UK time) on Wednesday 18th March and three winners will be picked at random and contacted. Only one comment per person will be counted in the draw. Good luck!
The Traitor's Mark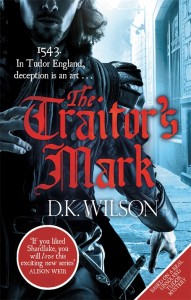 Due out tomorrow in paperback!
The Real Crime
Hans Holbein, King Henry VIII's portrait painter, died in the autumn of 1543. A century later a chronicler reported that the artist had succumbed to plague, yet there is no contemporary evidence to support this. Suspicions have been raised over the centuries, but the mystery of what actually happened remains unsolved to this day.
Our Story
Young London goldsmith Thomas Treviot is awaiting a design for a very important jewellery commission from Hans Holbein. When the design fails to turn up, Thomas sends a servant to track Holbein down, only to discover that the painter has disappeared. In his hunt for Holbein and the lost design, Thomas is led into a morass of dangerous political intrigue, Spanish spies and courtiers that is more treacherous than he could ever have anticipated…
Paperback: 480 pages
Publisher: Sphere (12 Mar. 2015)
Language: English
ISBN-10: 0751550388
ISBN-13: 978-0751550382
Available from Amazon.com, Amazon UK and your usual bookstore.
Here's the cover of The First Horseman…