Henry VIII's Last Love Blog Tour Day 7 – Sanctuary in Poland
Posted By Claire on March 15, 2015
Today I am honoured to be the final stop on David Baldwin's blog tour for his book
Henry VIII's Last Love: The Extraordinary Life of Katherine Willoughby, Lady-in-Waiting to the Tudors
. Amberley Publishing is also offering one lucky Anne Boleyn Files follower a copy of David's book too – see further down for details.
The giveaway is now closed.
Over to David…
Katherine and her family eventually found sanctuary in Poland, but not before they had been pursued from town to town by Queen Mary's agents and attacked by brigands. The following extract describes her flight from Santon to Wesel in February, 1555. – David Baldwin
Foxe says that 'so soon as the duchess had landed in Brabant, she and her women were apparelled like the women of the Netherlands with hukes [long hooded cloaks]; and so she and her husband took their journey towards Cleveland [the Duchy of Cleves, in the Holy Roman Empire], and being arrived at a town therein called Santon [modern Xanten], took a house there, until they might further devise of some sure place, where to settle themselves'. They hoped to find permanent refuge in Wesel, another of the Duke of Cleves's towns some eleven miles distant, 'wither divers Walloons [a French-speaking people who live in Belgium] were fled for [their] religion and had for their minister one Francis Perusell, then called Francis de Rivers, who had received some courtesy in England at the duchess's hands'. Through Perusell, Bertie asked the Wesel authorities to grant them a permit of residence, and Foxe implies that he obtained it the more readily because the chief magistrate knew who they really were.
But even while their application was being considered their presence in Santon aroused suspicion. It was rumoured that they 'were greater personages than they gave themselves forth' i.e. than they were pretending to be, and Bertie was warned that the Bishop of Arras, Antoine de Perrault, was planning to question them about their reasons for being there and their religious opinions. They decided that they must leave for Wesel immediately, and one cold February afternoon, 'about three of the clock', set out on foot 'without hiring of horse or waggon for fear of disclosing their purpose'. They took only two servants with them, and again carried baby Suzan in their arms.
Their journey was far from easy. In the late afternoon 'there fell a mighty rain of continuance, whereby a long frost and ice, before congealed, was thawed, which doubled more their weariness'. As darkness fell, they sent their servants into the villages they passed to attempt to hire a cart or other conveyance, but none was available and they were obliged to struggle on as best they could. They reached Wesel at between the hours of six and seven, but Bertie did not know where to find Perusell and could obtain no shelter for his family. 'For going from inn to inn offering large money for small lodging, they were refused of all the inn-holders, suspecting Berty to be a lance-knight [landsknecht], and the duchess to be his woman. The child for cold and sustenance cried pitifully; the mother wept as fast; [and] the heavens rained as fast as the clouds could pour.'
With their situation becoming ever more desperate, Bertie left the others in the porch of St Willibrord's church while he tried to find someone who could direct him to Master Perusell's dwelling. He supposed his fluency in French, Italian and Latin would stand him in good stead, but found that none of the locals he approached could understand him. Finally, when he had almost given up hope, he overheard two boys speaking Latin, and offered to reward them if they would take him and his family 'to some Walloon's house'. By chance, they led them to the very house where Perusell happened to be dining that evening, and when he came to the door 'beholding master Berty, the duchess, and their child, their faces, apparels, and bodies so far from their old form, deformed with dirt, weather, and heaviness, [he] could not speak to them, nor they to him, for tears. At length recovering themselves, they saluted one another, and so together entered the house, God knoweth full joyfully; master Berty changing his apparel with the good man [the householder], the duchess with the good wife, and their child with the child of the house.'
Extract taken from David Baldwin's new book, Henry VIII's Last Love (published by Amberley, 2015). The book is available to buy from all good bookstores, as well as online at the Amberley website, Amazon (Amazon US and Amazon UK) and The Book Depository.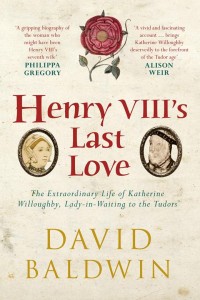 Giveaway
To be in with a chance of winning a copy of Henry VIII's Last Love, all you need to do is to comment below saying why you find Katherine Willoughby so interesting. Comments must be left before midnight Friday 20th March. A comment will be picked at random and the winner contacted shortly after the closing date. The giveaway is international.
The Author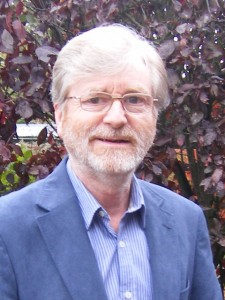 David Baldwin is a historian who has taught at the Universities of Leicester and Nottingham for many years. He is the critically acclaimed author of The Lost Prince ('A fascinating new theory' THE DAILY MAIL), Elizabeth Woodville ('Inspirational… brings her alive for the general reader' PHILIPPA GREGORY), Richard III ('A believably complex Richard, neither wholly villain nor hero' PHILIPPA GREGORY), Robin Hood ('Excellent… a pleasure to read' BBC HISTORY MAGAZINE) and co-wrote the bestseller The Women of the Cousins War. He lives in Leicester.
PRAISE FOR THE BOOK
'A gripping biography of the woman who might have been Henry VIII's seventh wife… David Baldwin is a brilliant historical detective.' PHILIPPA GREGORY (author of The White Queen).
'A vivid and fascinating account… brings Katherine Willoughby deservedly to the forefront of the Tudor age.' ALISON WEIR.
If you've missed the other stops on David's tour then do look at the schedule below so that you can catch up with them – click on it to enlarge it.