Posted By Claire on March 5, 2015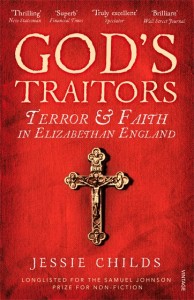 World Book Day seems a fitting day for the release of the UK paperback edition of God's Traitors: Terror and Faith in Elizabethan England by Jessie Childs.
I reviewed the hardback edition back in May 2014 and said "This is the best history book I've read in the last few months. I just can't say enough good things about it. I've raved about it to friends, family and contacts, and read passages out to my husband and anyone who would listen. It is fantastic!" and I still stand by that. Click here to read my full review. It really is an excellent book on Catholics living in Elizabeth I's reign and shows another side to Elizabeth I's reign without demonizing Elizabeth and her government. Brilliant.
To celebrate the release of the paperback version, Jessie Childs is kindly offering a signed copy to one lucky Anne Boleyn Files follower. All you have to do is comment below before midnight Wednesday 11 March saying why you'd like to win this book. One comment will be picked at random and I will email the winner. This giveaway is international. Please do share news of this giveaway to anyone you know who'd be interested in this book. This book deserves to be read!