The Other Boleyn Girl Green Dress Set
Posted By Claire on April 14, 2010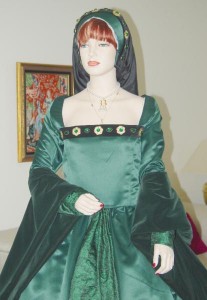 Lots of you have been saying that you wish you could get your hands on the green dress worn by Natalie Portman as Anne Boleyn in "The Other Boleyn Girl", well, now you can!
Kris has done herself proud with this stunning dress and deserves a big round of applause. It really is gorgeous! She managed to find a stunning pine green satin material and matching satin brocade and velvet. Clever lady.
The dress is custom-made to your very own measurements and comes complete with a matching French Hood too, so you can get the complete Natalie Portman look.
Check out the description below for full details and watch the slideshow for images of Natalie Portman in the original dress and Kris's version.
[slideshow id=216 w=400 h=400]
TOBG Green Dress Details
This beautiful custom-made to order dress features:-
Luxury Pine Green Lamour Bridal Satin with the undersleeves and front gore of Satin Brocade
Plush Triple Velvet oversleeves, made extra long just like Natalie's dress
A Skirt circumference of over 200 inches so it can be worn with the fullest hoop slip (pictures taken with a 5 hoop)
Extra boning used in front to provide the same "look" as the film (8 pieces of boning in the front, 4 on the sides (2 on each side) and 2 in the back for a total of 14)
Corset Grade Grommets for the back lacing
Elastic Waist with Toggle to adjust fit so that you can enjoy a full-on banquet!
Bodice is fully lined and interlined with canvas
Filigrees and stones set on Black Velvet at the top of the bodice
Matching French Hood included – This is decorated with the same filigrees and stones as the bodice and comes complete with veil.
Note: The sleeves are made differently than on the film dress. This is because the way the sleeves are made in the film dress requires that they be fitted on site and Kris obviously can't do that! So she has made them as close as she could.
(Jewelry can be purchased here on The Anne Boleyn Files – B Necklace and TOBG Pearl Cross)
You can purchase the dress at our Anne Boleyn Dresses page.