The Fall of Anne Boleyn Book Tour Day 6 – Anne Boleyn: From Queen to History
Posted By Claire on June 4, 2012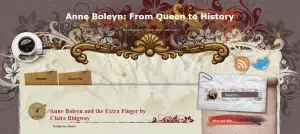 After a wonderful weekend of relaxation and celebrating the Queen's Diamond Jubilee, I have dashed over to Australia today, in a virtual sense, of course, to share a guest article "Anne Boleyn and the Extra Finger".
Thank you so much to Sarah Bryson of the Anne Boleyn: From Queen to History blog for kindly hosting me. Some of you will remember Sarah from the series of articles she wrote for us on Mary Boleyn – thanks, Sarah!
Click here to read my article now.
I am also offering a prize to one lucky person who comments on that article before the end of Saturday 9th June. The prize is a 23ct gold Anne Boleyn B brooch with freshwater pearls – good luck!
Tomorrow, I am guest posting over at Elizabeth's blog, The Tudor Tattler, and I hope to see you there! You can see the book tour schedule at The Fall of Anne Boleyn: A Countdown Virtual Book Tour