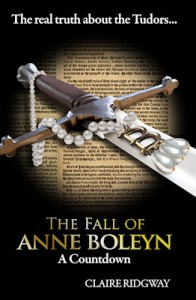 I had so much fun hopping from blog to blog on my virtual book tour for The Anne Boleyn Collection – and I know that many of you enjoyed it too – that I have decided to do a two week tour for The Fall of Anne Boleyn: A Countdown.
"What is a virtual book tour?", some of you may be asking; well, it's an online book tour. I will be visiting ten Tudor themed blogs over the next two weeks, writing guest articles or being interviewed, and giving away prizes too. It's a great way of thanking blogs for the support they've given me and introducing you lords and ladies to other blogs that I know you will find interesting.
So, here's the schedule:
Week One – 28th May to 1st June
28th May History Refreshed by Susan Higginbotham – I've written a special article on Anne Boleyn and witchcraft for historical fiction author Susan Higginbotham's blog and I'll be giving away an Anne Boleyn prize. See you there!
29th May Niki Incorvia – I will be doing a Q&A session over at Tudor history buff and PhD student Niki Incorvia's blog on Tuesday. There will also be a prize up for grabs!
30th May Anne-Boleyn.com – I have written a guest article about my adventures with Anne Boleyn for Sylwia's website. Another prize too!
31st May Being Bess – Thursday sees me visiting Ashlie's Elizabeth I's blog for a Q&A session and another prize!
1st June Lady Jane Reference Guide Blog – On the anniversary of Anne Boleyn's coronation, I will be writing a guest post at Tamise's Lady Jane Grey blog and, surprise, surprise, giving away a prize!
Weekend – A well-deserved rest after all that hopping!
Week Two – 4th June to 8th June
As I've said, I will be giving away a prize on each blog. All you have to do is follow the rules given by that particular blogger to enter. I do hope you enjoy the next two weeks and thank you to the bloggers involved and also to you for your ongoing encouragement and support.