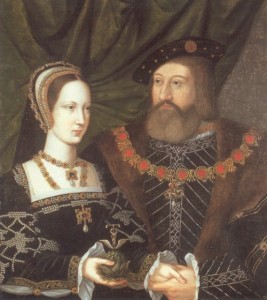 On this day in history, Henry VIII's beloved sister, Princess Mary Tudor, was born at Richmond Palace. Happy 515th Birthday Mary!
You can find out all about Mary in the following articles:-
In "The Tudors" series the character of Princess Margaret Tudor, as played by Gabrielle Anwar, was an amalgamation of Henry VIII's two sisters, Margaret and Mary, and was closer to Mary. However, there were some inaccuracies in the portrayal of her character and some things that were missed out:-
Mary did not marry the ageing King of Portugal, she married King Louis XII of France when she was 18 and he was 52.
Mary married Louis XII in 1514, not in the 1520s.
She did not murder her first husband (the King of Portugal in the show), Louis died of natural causes less than three months after the marriage.
Mary was married to her second husband, Charles Brandon, Duke of Suffolk, for 18 years, until her death in 1533 – It appears much shorter than that in the show.
Mary had 4 children with Charles Brandon – Henry Brandon (1516-1522), Lady Frances Brandon (1517-1559), Lady Eleanor Brandon (1519-1547) and Henry Brandon, 1st Earl of Lincoln (1523-1534).
Mary died in 1533, nearly 3 years after Cardinal Wolsey, yet she dies before him in "The Tudors".