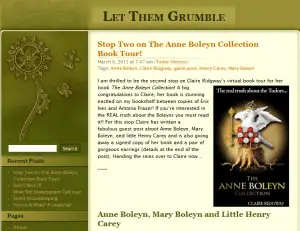 I've just re-read that title and can I just clarify that "Let Them Grumble" is the name of the blog I'm visiting, not a comment on life or me being rude to the world!
Today I dash from Virginia to Nova Scotia in Canada to visit Libby at her "Let Them Grumble" blog, a blog which contains, in Libby's words, "posts on Anne Boleyn and other fascinating Tudor characters, the language of trees, poetry, garden gnomes, royalty, horses, and books and movies".
Libby kindly invited me to write a guest article for her blog and I chose to write about "Anne Boleyn, Mary Boleyn and Little Henry Carey" – I hope you enjoy reading my thoughts. Thanks, Libby!
My article can be found at Stop Two on the Anne Boleyn Collection Book Tour and if you leave a comment on that post on Let Them Grumble you will be entered into the giveaway to win a signed copy of The Anne Boleyn Collection and a pair of Anne Boleyn earrings. Good luck!
Remember, leave a comment on that blog, not here, to enter the giveaway!
Tomorrow, I'm off to Adelaide in Australia to visit Sarah Bryson's "From Queen to History Blog" – more details tomorrow. You can check out my virtual book tour schedule at The Anne Boleyn Collection website.