Sisters of Treason UK paperback now available
Posted By Claire on January 29, 2015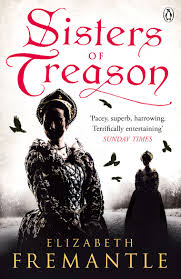 Congratulations to author Elizabeth Fremantle on the release of the UK paperback edition of Sisters of Treason today.
I reviewed it when it first came out in hardback – click here to read my review – and it's a wonderful read.
Elizabeth is one of our guest writers for this month's Lady Jane Grey special edition of Tudor Life magazine, the Tudor Society's monthly magazine, and she has shared an article and an excerpt from Sisters of Treason. See https://www.tudorsociety.com/sneak-peak-february-2015-tudor-life-magazine/ for more details on the magazine and to read a sample of it.
As always, Tudor Society members' names are put into a monthly prize draw to win books by our featured authors but Penguin UK have sent me a copy of Sisters of Treason to give away to one lucky Anne Boleyn Files follower. Simply leave a comment below before midnight on 5 February saying why you want to read this book and I'll pick a comment at random. The lucky winner will be emailed for their details. The competition is open to everyone, whatever country you live in.
If you just want to buy the book yourself then it's available right now on Amazon UK – http://amzn.to/1CP6xlg – or from bookstores in the UK. It is available in hardback in the US.
Book Blurb:
1554: Lady Jane Grey is executed by her cousin Queen Mary…

Now Lady Jane's younger sisters Katherine and Mary, cursed with the Tudor blood that saw their sister killed, face the perils of the royal court alone.

Lady Katherine – young and spirited – makes dangerous romantic liaisons. While Lady Mary – crook-backed and vulnerable – becomes the Queen's reluctant companion, yet yearns to escape court intrigue. And both girls fear their proximity to the Queen might be their undoing.

For the childless Queen is ill. If she should die Katherine may be pushed to power, but the Queen's half-sister Elizabeth casts a long shadow and if she gains the throne the court will become a terrifying maze of treachery and suspicion – where holding royal blood could be a death warrant for the two sisters…
Paperback: 496 pages
Publisher: Penguin (29 Jan. 2015)
Language: English
ISBN-10: 1405909404
ISBN-13: 978-1405909402