February Tudor Life Magazine – Sneak Peek
Posted By Claire on January 29, 2015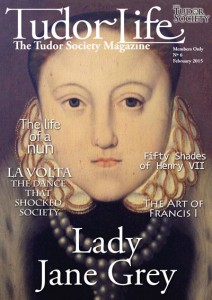 Time is flying and it's already time for the February edition of Tudor Life, the Tudor Society's monthly magazine.
In this month's Tudor Life, we have a special Lady Jane Grey section, to commemorate the anniversary of her execution, with articles from Elizabeth Fremantle, J Stephan Edwards, Tamise Hills and Susan Higginbotham. We also have features from Derek Wilson, Nancy Bilyeau and Olga Hughes, and articles from our regular contributors too. It's a jam-packed edition! And next month is a special Richard III themed edition.
Click here to enjoy a sneak peek of Tudor Life and to enjoy a couple of its articles.
As always, Tudor Society members can take part in the monthly Tudor Life magazine book giveaway which this month includes copies of Susan Higginbotham's Her Highness the Traitor, J Stephan Edward's A Queen of a New Invention, Derek Wilson's The First Horseman and Elizabeth Fremantle's Sisters of Treason. Author Nancy Bilyeau has also kindly offered a signed set of her three historical thrillers The Crown, The Chalice and The Tapestry as a prize for one lucky Tudor Society member. Just follow the instructions in the magazine.