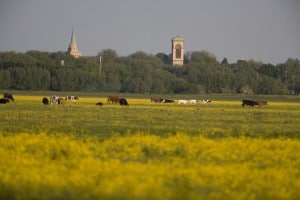 As someone who used to live near Oxford and who fell in love with the "city of dreaming spires", I was shocked to hear how the building of student accommodation by Oxford University had destroyed one of the well-known views of the city. I know this is not about Tudor history, but it is about history and heritage. Surely the need for student accommodation could have been 'married' with the need to preserve beauty.
Historian Diarmaid MacCulloch, who many of you will know from his books on Thomas Cranmer, the Reformation and Christian history, as well as his new BBC series "Sex and the Church", feels very strongly about this building work and you can read more about what has happened and the motion that Diarmaid submitted to the University Congregation in this piece that Diarmaid has written for us…
Oxford University's Bodleian Library recently bought something very precious: the original manuscript of Gerard Manley Hopkins's beautiful little poem, 'Binsey Poplars', which is a charged lament for felled trees on the edge of Oxford. I was pleased to give backing to Bodley's appeal, because it represents everything that is good and admirable about my University. But my pleasure in seeing the sums mount up for this purchase has been combined with a sarcastic awareness that at the same time, the present University authorities are busily destroying a view of the city of Oxford from Binsey which Hopkins knew well, and which has survived unharmed from his time and from centuries before.
Binsey is separated from Oxford by an extraordinary vast open space, a prehistoric landscape of grazing horses and cattle called Port Meadow. It was saved from Victorian housing or industrial development through a great deal of hard work, which the University has apparently forgotten. For the modern bureaucrats in the unlovely University offices in Wellington Square have put up a Stalinist row of graduate accommodation blocks along the edge of Port Meadow, looming arrogantly above its tree-line horizon, and rudely hogging the views towards dreaming spires. I watched it rise for months, in horror and disbelief. Obviously a good cause, after all, finding places for graduate students to live; and so in this good cause, any amount of corners may be cut in the planning process, those involved tiptoeing along the boundary of unlawfulness, to create the grim wedges which now thrust over the skyline.
At first it seemed that it was just a regrettable mistake; happily there was no sign of any protest from residents; most councillors were pleased to vote it through on proper information; a tragedy of good intentions. That scenario sounds less plausible now – the reason there was no protest was that the Council and University designed a public consultation process that hardly a single local resident was even aware was taking place. It emerged that in the middle of planning discussions, the City of Oxford's chief Heritage Officer had produced a damning report on the plans, pointing out precisely how the southern skyline of Port Meadow would be wrecked. Within a day or two, with a speed rarely equalled in University affairs, and with a surprising awareness of this internal Council Document, the University came up with a brand-new plan for the buildings, which was all of four feet lower – four feet, count them up! So the Councillors never saw the Heritage Officer's report, because it related to a totally different building scheme (four feet taller): and so they voted through the University planning application. Many of them are now very angry, as are thousands of Oxford residents, plus dons and students. Yet the University hierarchy remained obstinately mute in response to the protests: senior University figures left hapless underlings in the University Press Office to mumble out excuses for this architectural and environmental outrage. This is no doubt because they realise that they have done something terrible and are trying to ride out the storm by keeping schtumm. I am deeply ashamed of my own University for this craven stonewalling. They were only brought to face the issue when I put a motion into Congregation requiring the University Council to demolish the upper floor. With a huge effort of lobbying, Council persuaded a large majority of our colleagues to vote this motion down; but still 460 dons voted with me.
Matters are not settled. The CITY Council still has to decide on its next move. Here is Hopkins on the earlier disgrace, which was at least capable of cheap remedy by growing some more trees:
MY aspens dear, whose airy cages quelled,
Quelled or quenched in leaves the leaping sun,
All felled, felled, are all felled;

O if we but knew what we do
When we delve or hew—
That, like this sleek and seeing ball
But a prick will make no eye at all,

Ten or twelve, only ten or twelve
Strokes of havoc únselve
The sweet especial scene…
Shame on you, Vice-Chancellor and Scholars of my University of Oxford. Shame on you, bureaucrats of Wellington Square. But remember that shame can lead to repentance.

Diarmaid MacCulloch is Fellow of St. Cross College and Professor of the History of the Church, Oxford University. His next book is a biography of Thomas Cromwell.
You can read more about recent events, the Save Port Meadow Campaign, and how you can get involved if you feel strongly about this, through the following links: