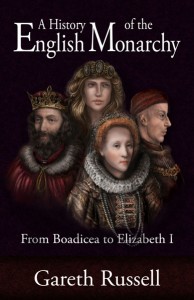 Gareth Russell's latest book A History of the English Monarchy from Boadicea to Elizabeth I, which was published in paperback on 24 March, is now available on Kindle. Congratulations to Gareth on his book's release.
Here is more information on the book…
In A History of the English Monarchy, historian Gareth Russell traces the story of the English monarchy and the interactions between popular belief, religious faith and brutal political reality that helped shape the extraordinary journey of one of history's most important institutions.
From the birth of the nation to the dazzling court of Elizabeth I, A History of the English Monarchy charts the fascinating path of the English monarchy from the uprising of 'Warrior Queen' Boadicea in AD60 through each king and queen up to the 'Golden Age' of Elizabeth I. Russell offers a fresh take on a fascinating subject as old as the nation itself. Legends, tales and, above all, hard facts tell an incredible story… a history of the English Monarchy.
Paperback: 322 pages
Publisher: MadeGlobal Publishing (March 24, 2015)
Kindle file size: 3586 KB
Language: English
ISBN-10: 8494372122
ISBN-13: 978-8494372124
ASIN: B00VTSY5TE
Available from Amazon.com, Amazon UK, other Amazon international sites and your usual bookshop.