#portraittuesday – The NPG portrait of Anne Boleyn
Posted By Claire on April 11, 2023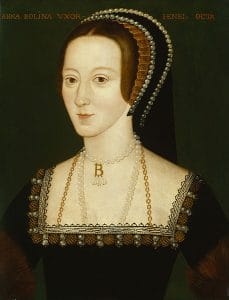 For my first #portraittuesday post, I thought I'd look at the famous National Portrait Gallery of Anne Boleyn, which was painted late in the reign of Anne Boleyn's daughter, Elizabeth I.
The NPG Anne Boleyn portrait depicts Anne Boleyn in her famous B necklace and she is wearing a French hood with a velvet veil hanging down the back and the billiments decorated with pearls, and a French gown, which, during 1530s, featured a close-fitting bodice, a straight-across natural waist-line, closely fitted upper sleeves and deep turned-back cuffs, and a decorative underskirt and undersleeves.
When costumer Molly Housego examined the NPG painting of Anne Boleyn to replicate her gown, she noticed that Anne was wearing a blackwork trimmed smock (see the visible blackwork trim around the neckline), then a dark (perhaps black) decorated kirtle. Molly commented that the decorations you can see below the blackwork are "goldsmith's work comprising twin pearls, alternating with a twisted metal gold bead in almost a basketwork design – I suspect they were fashioned from gold wire. You can see that they are almost spherical." Molly went on to say that "The goldsmith's work around the square necklines of gowns like Anne's was merely tacked to the kirtle by ladies in waiting and would often be moved from outfit to outfit. The gown fitted over the kirtle and could often be of a lighter weight fabric in summer or fur-lined in winter". The oversleeves are a dark brown and may well be sable.
In 2010 and 2011, this painting underwent conservation treatment, due to the wooden panel support becoming "structurally unstable", and it was also analysed to date it.
You can read all about the conservation treatment it was given on the NPG website at https://www.npg.org.uk/collections/research…, but dendrochronology showed that the panel was made from oak from the Easter Baltic and that one of the boards used was from a tree felled after 1584. The NPG believes that "the size and format suggests that it originally formed part of a set of portraits of kings and queens" and that it was based on an earlier likeness of Henry VIII's second wife.
Here is a photo of me saying hello to Anne Boleyn at the National Portrait Gallery in 2018: