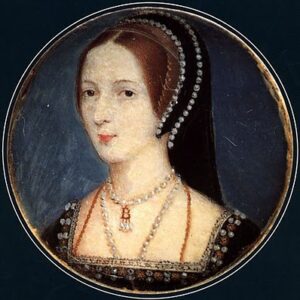 For this week's #portraittuesday, I'm sharing this stunning miniature of Anne Boleyn by John Hoskins. Isn't it lovely?
It dates to the 17th century, but historian Eric Ives believes that Hoskins based it on an earlier portrait, a contemporary portrait. Historian Eric Ives believes that Hoskins had access to a now lost full-length portrait of Anne Boleyn, which is thought to have been painted by Hans Holbein the Younger. We know that that portrait was in the possession of John Lumley, 1st Baron Lumley, in 1590 and that it existed as late as April 1773, when it was sold at auction, although it had been cut down due to fire damage.
Ives describes the Hoskins miniature as "the best depiction of Anne we are ever likely to have, failing the discovery of new material". What do you think?
We obviously do have a contemporary image of Anne Boleyn, the 1534 Most Happy medal, although it's definitely not as good as a contemporary portrait.