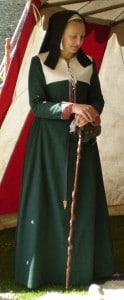 Molly Housego is a Tudor costumer who has organised the Tudor fashion show, which is part of the Festival of History in Northamptonshire this coming weekend. Molly has written me some blurb about the fashion show which features Anne Boleyn wearing our very own gold-plated B necklace! Here is Molly's article:-
Tudor Fashion Show, Festival of History
I have the great pleasure and privilege of presenting the Tudor Fashion Show, event-managed by Black Knight Historical on behalf of English Heritage at the Festival of History, at Kelmarsh Hall, Northamptonshire.
The Tudor Fashion Show is a new feature for 2009, and will showcase early 16th century fashions and everyday clothing, with a date line of 1520 – 1547, the 'high Henrician period'. The models, mostly experienced historical interpreters, and including some talented costumiers, will be displaying costumes from all walks of life, from servants to courtiers, merchants to queens. Each costume will be looked at and discussed in detail, right down to the underwear!
Each show, of which there are four over the weekend, will not only include a fascinating cavalcade of Tudor costume, but will also feature a different character who will be completely undressed, layer by layer, so observers will be able to see exactly what the Tudors really wore – if hearts quicken at the thoughts of Mr Darcy in his Regency splendour, wait until you see the fashionable Tudor gentleman in a state of undress! However, we will be maintaining modesty and respectability at all times – this is a family show!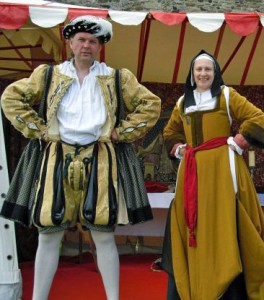 All the costumes will be historically accurate, right down to fastenings, decoration, colours, fabrics and cut. Everything displayed will have been painstakingly reconstructed from original sources as far as possible, and there will be no theatrical short-cuts, or made-for-television costume cheats here! Our highlight on Sunday's final show will be undressing a former famous Queen of England, Anne Boleyn herself. Anne will be resplendent in scarlet silk velvet, and we shall discover the secrets of her wardrobe as layer after beautiful layer is peeled away. Historical costume lovers will be astounded at the construction and details, but the biggest surprises will probably be what is not worn…
Find out more about the Festival of History on our Events UK page or on the special English Heritage Festival of History page. It looks like a fantastic day out!
You can find out more about Black Knight Historical Events at www.blackknighthistorical.co.uk
P.S. Make sure you read today's other new blog post – see below for Alisa Libby's special guest article on Catherine Howard.