****NEWSFLASH – "The White Queen" is Book of the Month" – NEWSFLASH****
Posted By Claire on August 5, 2009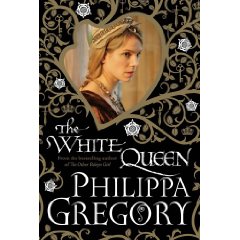 Just to let you know that Philippa Gregory's new novel "The White Queen", due out on 18th August, is The Anne Boleyn Files "Book of the Month".
Click here to read my review of this book which tells the story of Elizabeth Woodville and her marriage to Edward IV.
The publisher of "The White Queen", Simon and Schuster, have produced a stack of resources to publicise this wonderful new novel:-
Tweets – See Elizabeth Woodville brought to life as Philippa Gregory tweets between Tuesday 11th and Monday 17th August daily between 5:00pm and 8:00pm. Follow her at www.twitter.com/ElizWoodville. The tweets will remain for people to view at a later date on Gregory's re-launched website: www.philippagregory.com.
A text excerpt – Read an excerpt from the novel on the Simon and Schuster website.
Interviews with Philippa Gregory on YouTube – click here to go to the first one and then see the list on YouTube for more interesting videos.
Enjoy!
UPDATE 2013: Since researching the Woodvilles, I have to say that my views on The White Queen have changed. Like all of Gregory's books, it is a riveting read, but I really don't like the witchcraft theme.
P.S. Remember to have your say on my latest Anne Boleyn blog post – Anne Boleyn: A Victim. I love to know what you guys think!