****NEWSFLASH – A Witch's Garden – NEWSFLASH****
Posted By Claire on June 10, 2009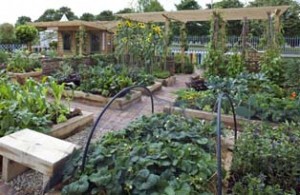 Further to today's post on Anne Boleyn and witchcraft (see below), I just thought I'd share that Hampton Court Palace's Flower Show is featuring special gardens to remember each of Henry VIII's six wives and guess what the theme for Anne Boleyn's garden is – yes, you guessed it! Witchcraft!.
According to newpaper reports – click here to read one – garden designer, Anthea Guthrie, is remembering Anne Boleyn with a garden called "A Witch's Garden". In this garden will be herbs and plants with aphrodisiac qualities and ones that are thought to promote fertility. A scaffold is also going to be displayed to remember Anne's execution. PLEASE!

My husband laughs at me when I get on my soap box about Anne and get cross about things like this but I'm a bit annoyed that Hampton Court Palace are promoting this myth about Anne Boleyn. OK, perhaps I should get a life, but Anne Boleyn was a real woman and I don't think that we should tarnish her memory in this way.
By the way, the other wives are being remembered with the following gardens:-
Catherine of Aragon – An "Artscapes" garden, which apparently will be full of symbolism.
Jane Seymour – Her fair skin and charm will be remembered with pastel colours and white flowers.
Anne of Cleves – A Tudor knot design.
Catherine Howard – Her famous adultery will be remembered with a four poster bed planted with thyme.
Catherine Parr – Her piety will be remembered with a "Mary Garden" (after the Virgin Mary) and contain plants with religious significance or religious names.
The Hampton Court Palace Flower Show will be open to the public between the 7th and 12th July – click here to find out more at their website.