Michael Hirst on "The Tudors"
Posted By Claire on September 18, 2009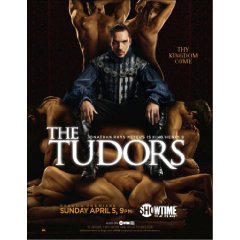 With all the controversy over "The Tudors" – say it on some forums and you might just get banned! – it's good to hear what the creator himself has to say about the series.
Sarah Gristwood, writer of "Elizabeth and Leicester" interviewed Michael on behalf of BBC History Magazine and heard of how he gets letters all the time from teachers praising the series because their pupils are wanting to know more about the Tudors and he says:
"One of the effects of The Tudors has been to drive people back to the history books with renewed interest, and we're drawing in those who had initially no interest in the subject. From the feedback I've been getting, the show has galvanised interest even in academic history."
You can read the whole interview on the BBC History Magazine website – click here for the article, but whatever your thoughts about the accuracy of "The Tudors", at least it is stimulating people's interest in the period – just look at the amount of history books that are being released and sold at the moment!
Read my recent blog, "The Tudors – Is it Really So Bad?", and have your say and make sure you read my Friday Round Up too.