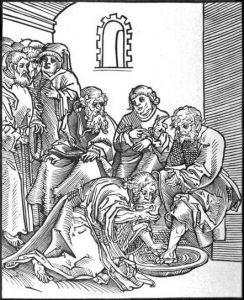 Today, the Thursday before Easter, is Maundy Thursday or Holy Thursday. It commemorates the Last Supper, that final and special meal that Jesus Christ had with his disciples, and Christ's washing of their feet.
Anne Boleyn owned a copy of William Tyndale's English translation of the New Testament so I thought that I would use Tyndale's text to tell the story of the Last Supper – I'm sure that Anne would have read it on Maundy Thursday: I have modernised the spelling to make it easier to read.
Matthew 26: 20-30:
"When the even [evening] was come he sat down with the xii and as they did eat, he said: Verily I say unto you, that one of you shall betray me. And they were exceeding sorrowful, and began every man to say unto him: is it I master? he answered and said: he that dippeth his hand with me in the dish, shall betray me. The son of man goeth as it is written of him: but woe be to that man by whom the son of man shall be betrayed. It had been good for that man, if he had never been born.
Then Judas which betrayed him, answered and said: Is it I master? He said unto him: thou hast said. As they ate, Jesus took bread and gave thanks, broke it, and gave it to the disciples and said: Take, eat, this is my body. And took the cup, and gave thanks, and gave it them, saying: drink of it every one. This is my blood of the new testament that shall be shed for many, for the forgiveness of sins. I say unto you: I will not drink hence forth of this fruit of the vine tree until that day when I shall drink it new with you in my father's kingdom.
And when they had said grace, they went out into Mount Olivet."
John 13: 1-11:
"Before the feast of Easter when Jesus knew that his hour was come, that he should depart out of this world unto the father. When he loved his which were in the world, unto the end he loved them. And when supper was ended after that the dev had put in the heart of Judas Iscariot Simon's son to betray him. Jesus knowing that the father had given him all things into his hands. And that he was come from God, and went to God, he rose from supper, and laid aside his upper garments, and took a towel, and girded himself. After that poured he water into a basin, and began to wash his disciples' feet, and to wipe them with the towel, wherewith he was girded.
Then came he to Simon Peter. And Peter said to him: Lord shalt thou wash my feet? Jesus answered and said unto him: what I do thou wottest not now [you do not understand] but thou shalt know hereafter. Peter said unto him: thou shalt not wash my feet while the world [while the world standeth]. Jesus answered him: if I wash not thy feet, thou shalt have no part with me. Simon Peter said unto him: Lorde not my feet only, but also my hands and my head. Jesus said to him: he that is washed needeth not but to wash his feet, but is clean every whit. And ye are clean: but not all. For he knew his betrayer. Therefore said he: ye are not all clean."
The story of Jesus washing his disciples' feet was remembered and re-enacted by the Pope, from at least the eleventh century, with him washing the feet of twelve subdeacons on Maundy Thursday, and in England, from the reign of Edward II, monarchs washed the feet of poor people. On Maundy Thursday each year, the monarch and his consort would wash the feet of as many poor people as years they were old and purses of Maundy money (alms) would also be given to these people.
On 13th April 1536, Maundy Thursday, Queen Anne Boleyn took part in her final Maundy Thursday service, distributing Maundy money and washing feet. The court expenses show that the "costs of the Queen's Maundy" for that year were "31 l. 3s. 9 ½d." Anne's chaplain, William Latymer, and martyrologist John Foxe both wrote of how the amount in the royal Maundy purses distributed to the poor increased significantly when Anne Boleyn was queen, showing her passion for poor relief, which she believed was her responsibility as queen and as a Christian. Latymer recorded that one Maundy Thursday, Anne, after washing and kissing the feet of poor women, "commanded to be put privily [privately] into every poor woman's purse one george noble, the which was vi.s viii d. [6 shillings and 8 pence], over and besides the alms that wonted to be given."
You can read more about Anne Boleyn's passion for poor relief in my article Anne Boleyn and Charity.
Each year, our present monarch, Queen Elizabeth II, attends a special royal Maundy service. This special service is held at a different church each year and the queen always hands out Maundy Money to pensioners from that community. The number of coins given to each man and woman is equal to the years the queen has lived. Here's a video from 2013 when the special service was held at Christ Church, Oxford:
While the Queen doesn't wash the feet of poor people anymore, some churches still have this tradition – does yours?
Notes and Sources
Picture: Woodcut by Lucas Cranach the Elder.
Tyndale, William (d. 1536) The New Testament of our Lord and Saviour Jesus Christ by William Tyndale The Martyr, The Original Edition, 1526Gould & Newman, 1837.
Letters and Papers, Foreign and Domestic, Henry VIII, Voleum X. 772.
Dowling, Maria (1990) William Latymer's Cronickille of Anne Bulleyne, Camden Miscellany XXX 39, p53.