Posted By Claire on August 6, 2016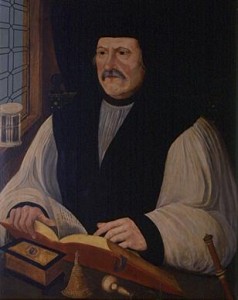 On this day in history, 6th August 1504, Matthew Parker was born in the parish of St Saviour, Norwich, East Anglia. He was born the son of a worsted weaver but his destiny wasn't weaving, Parker was destined for the Church and for royal service too.
In around 1520, Parker began his studies at Corpus Christi College in Cambridge, graduating with a BA in 1525, and it was there that he met men interested in evangelical reform, like Thomas Bilney, who was martyred in 1531. Parker went on to do a Masters and was elected a fellow of the college in 1527. By this time, he was also a priest. After gaining a Bachelor of Theology and a doctorate, too, he was appointed as one of Queen Anne Boleyn's chaplains in 1535 and, after her execution, served as chaplain to King Henry VIII. It was Anne Boleyn's patronage which led to him being appointed dean of the Collegiate Church of Stoke by Clare, in Suffolk, in November 1535.
In December 1544, Parker was elected master of Corpus Christi College and then vice-chancellor in January 1545. In his article The Cambridge Connections, author Robert Parry explains that "Parker was one of the primary architects of the emerging Anglican Doctrine that shaped the English Reformation and after the death of Henry VIII, he continued to rise to prominence under the reforming governments of Edward VI and was a close associate of the two most powerful statesmen of Edwards reign – Edward Seymour and John Dudley. He would have been intimately associated, therefore, with the influential Humanist movement of the first part of the 16th century that was centred on Cambridge and consisted of scholars such as John Cheke (1514–1557), William Grindal (d. 1548), Anthony Cooke (1504-1576); Roger Ascham (1515–1568), John Dee (1527–1608/9) and, perhaps most significantly of all, William Cecil (1520–1598)."
His royal favour led to him being made Dean of Lincoln and presented for the prebend of Corringham, Lincolnshire, in 1552, but things changed when the Catholic Mary I came to the throne in July 1553. As a married churchman, Parker was deprived of his many offices and, instead, focused on writing theological works. His time out of the limelight was short, though, as Mary died in November 1558 and her half-sister, Elizabeth I, came to the throne. In 1559, Queen Elizabeth I appointed Matthew Parker as her Archbishop of Canterbury. As I have explained in previous articles, Parker had been offered the post in 1558 but had stalled in accepting it. Parker believed that he was not right for the post and, having recently fallen off a horse, also not fit enough. But, Elizabeth I wanted him in that post and Parker felt that he had no choice; he had made a promise to Elizabeth's mother, Anne Boleyn, back in 1536 and he had to stand by that and serve his queen.
Click here to read more about this promise.
Matthew Parker served as Elizabeth I's Archbishop of Canterbury until his death on 17th May 1575. He is known for being one of the men responsible for the Thirty-Nine Articles of Religion which were established in 1563 and which are seen as "the historic defining statements of Anglican doctrine in relation to the controversies of the English Reformation". He may have been a great theologian, an influential churchman, but for me he was a man who did something he really didn't want to do because of a promise. As historian Eric Ives says, the words Anne Boleyn spoke to him shortly before her arrest "stayed with him for the rest of his life". What a loyal and noble man.
Notes and Sources
Crankshaw, David J. and Alexandra Gillespie. "Parker, Matthew (1504–1575)." David J. Crankshaw In Oxford Dictionary of National Biography, edited by H. C. G. Matthew and Brian Harrison. Oxford: OUP, 2004. Online ed., edited by David Cannadine, May 2011. http://www.oxforddnb.com/view/article/21327 (accessed August 5, 2016).
"The Cambridge Connections", online article by Robert Parry, 2 June 2010, http://www.elizabethfiles.com/the-cambridge-connections/3853/
Ives, Eric (2004) The Life and Death of Anne Boleyn, Blackwell Publishing, p267>