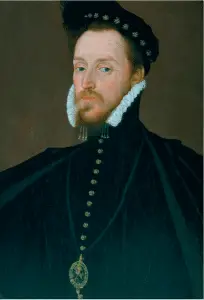 On 12th August 1596, Henry Carey, 1st Baron Hunsdon, son of Mary Boleyn, nephew of Queen Anne Boleyn and cousin of Queen Elizabeth I, was buried at Westminster Abbey. He had died on 23rd July 1596 at Somerset House, in London, at the age of seventy.
He was buried at his cousin the queen's expense in the abbey's St John the Baptist's Chapel. His lavish alabaster and marble tomb, erected by his widow, Anne (née Morgan), Lady Hunsdon, is the tallest in the abbey, measuring thirty-six feet (nearly 11m) in height. Westminster Abbey website gives the following description of his tomb:
"It is made of alabaster and marble with a considerable display of heraldry, which includes the Carey arms – argent, on a bend sable three roses of the field (i.e. a silver shield with a black bar diagonally across it from top left to bottom right with three silver roses on it). His crest is a swan and his motto "Comme je trouve" (as I find it)."
The website also gives a translation of the Latin tomb inscription:
"Consecrated for the burial of the Hunsdon family. Here sleeps in the Lord Henry Carey, Baron Hunsdon, one-time Governor of the town of Berwick, Warden of the east marches towards Scotland, Captain of the gentleman-pensioners, Chief Justice of the Forests south of the Trent, Knight of the Order of the Garter, Lord Chamberlain of the Lady Queen Elizabeth, sworn of the Privy Council, and first cousin to the aforesaid Queen. Together with him is buried Anne, his dearest wife, daughter of Thomas Morgan, knight, who bore him many children, of whom there survive George, John, Edmund and Robert, knights, Catherine, Countess of Nottingham, Philadelphia, Baroness Scrope, and Margaret, Lady Hoby. He died 23 July 1596 aged 71. His son, George Carey, Baron Hunsdon, member of the Order of the Garter, Captain-General of the Isle of Wight, Chamberlain of the household to Queen Elizabeth, Privy Councillor, and his wife Anne, placed this monument to the best of fathers and dearest of husbands, in his honour and memory, and being mindful of their own and their family's mortality."
Lady Hunsdon joined him in the tomb after her death on 19th January 1607.
The Westminster Abbey website has a photo of Hundson's tomb at http://www.westminster-abbey.org/our-history/people/henry-carey.
You can find out more about Henry Carey in my article Mary Boleyn Part Two – The King's Children? and about his mother's relationship with King Henry VIII in Mary Boleyn and Henry VIII.