Mary Boleyn – Is there more to know?
Posted By Claire on March 2, 2019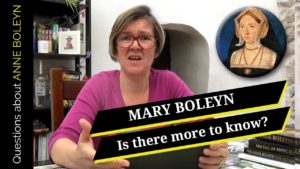 In this third and final video on Mary Boleyn, sister of Queen Anne Boleyn, I answer the following questions:
– What did Mary Boleyn look like?
– Did Mary Boleyn have a son with mental disabilities?
– Was Mary Boleyn's second marriage a love match?
– Are there any surviving letters between Anne Boleyn and Mary Boleyn?
– Where was Mary Boleyn in 1536 and did she do anything to help George and Anne Boleyn?
– Where did Mary Boleyn spend her final years?
– When did Mary Boleyn die and where was she laid to rest?
You can find the transcript of the Anne Boleyn letter at https://archive.org/details/oldfashionedgirl00alco/page/114, p114-115
Susan Higginbotham's article can be found at https://www.susanhigginbotham.com/posts/mary-boleyn-or-frances-brandon/
Roland Hui's article on the miniature can be found at https://tudorfaces.blogspot.com/2011/10/two-new-faces-hornebolte-portraits-of.html
Links to my other videos on Mary Boleyn:
Mary Boleyn: Mistress of two kings? – https://youtu.be/Z6ChItwXANw
Mary Boleyn Facts: Who was Mary Boleyn? – https://youtu.be/Kg-1h6ttoJQ