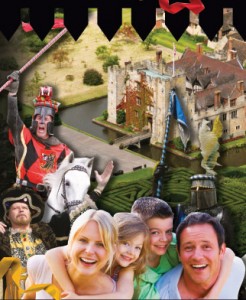 If you're in Kent this weekend then don't miss King Henry VIII's Summer Pageant this weekend at Hever Castle, Anne Boleyn's childhood home and one of my favourite places on Earth. Here is what Hever Castle say about this event:-
King Henry VIII's Summer Pageant
17th & 18th July
Hever Castle, Hever, near Edenbridge, Kent
This Saturday and Sunday (17 and 18 July) come and join in the special celebration with the return of the King's magnificent Knights of Royal England for the start of the annual Jousting Tournaments.
There is sure to be plenty of suspense and excitement as the knights gallop into action with displays of traditional medieval horsemanship. Visitors will also have the chance to participate in the medieval sporting activities and can put their skills to the test in 'Have a go Archery'.
Visitors can also join in the merriment of the event with a hearty hog roast and a mug of ale in the King's tent*. There will be minstrels and dancing to keep everyone entertained, and the King looks forward to seeing little ones get into the Tudor spirit by entering the competition for the best dressed knight and princess.
*There is a charge for the hog roast and ale
Event Times
2.00pm Meet the knights on horseback on the forecourt of the castle as they await the arrival of King Henry VIII and Anne Boleyn. The King will invite all to follow him to the jousting field
2.15pm Start of the tournament with the children's competition parade for the best Knight and Princess
The Jousting tournament lasts approximately 1hr. Come and cheer on your knight.
Find out more about visiting Hever Castle at http://www.hevercastle.co.uk/.
Fancy staying at Hever Castle, learning more about Anne Boleyn and meeting other Tudor history enthusiasts? Why not join us on The Anne Boleyn Experience 2011? Click here to find out more.