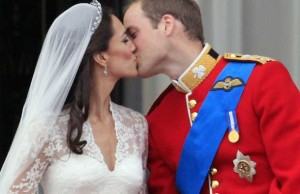 The Duchess of Cambridge's wedding dress and the royal wedding cake are going to be on display at Buckingham Palace as part of the Palace's Summer Opening from 23rd July until the 3rd October 2011. If you are going to be in London this summer then don't miss out on the Summer Opening, which also includes the special Royal Faberge exhibition.
You can find out more details at http://www.royalcollection.org.uk/default.asp?action=article&ID=952 and book tickets at https://www.rceltickets.com/eventlist.asp?VenueID=1.
There are various ticket options including "A Royal Day Out" which is a flexible discounted ticket allowing visitors admission to all three sites at Buckingham Palace: the State Rooms, the Royal Mews and The Queen's Gallery. The Royal Faberge exhibition and the displays of the Duchess of Cambridge's dress and the Royal couple's wedding cake are included as part of the State Rooms visit.