There are only 2 days to go until my online event "Elizabeth I: The Life of Gloriana, the Virgin Queen" starts!
Yes, it starts on Wednesday 7th September, and runs until 16th September.
Do register while you still have the chance.
See all the details and register at https://claireridgway.com/events/elizabeth-i-the-life-of-gloriana-the-virgin-queen-online-event-7-16-september-2022/
Dr Estelle Paranque is one of 8 historians involved in the event and she will be talking about Elizabeth I's tumultuous and fascinating relationship with the French. During the course of her reign, Elizabeth had to deal with five different French kings and a powerful queen mother who saw herself as Elizabeth's equal. From defiance to distrust to conspiracy to marriage propositions to unexpected friendships, Elizabeth developed her personal relationship with each monarch and their resident ambassadors. She showed preferences but, in the end, she always dealt with them with caution and respect and was more than a mere counterpart. She often became an advisor and a mediator.
Dr Estelle Paranque is a historian, author and assistant professor of history. She has extensively published on the Tudors and the Valois, and her latest book, "Blood, Fire and Gold", is on Elizabeth I and Catherine de Medici.
Estelle completed her PhD in Early Modern History at University College London in 2016 and turned it into a monograph that was published in November 2018 by Palgrave Macmillan: "Elizabeth I of England Through Valois Eyes: Power, Representation, and Diplomacy in the Reign of the Queen, 1558-1588".
Estelle has always had a passion for history and particularly for queens and diplomacy.
​She was elected a Fellow of the Royal Historical Society and she is a Fellow of the Higher Education Academy. She is also a co-convenor of the Tudor and Stuart Seminar at the Institute of Historical Research in London. She has been teaching at university level for the last nine years and is dedicated to sharing her passion for history with the next generation.
​Her research interests are royal and diplomatic studies. She works on Anglo-French relations during Elizabeth's reign and on monarchical representations during the early modern period.
She also works on Catherine de Medici and the Valois kings and their consorts.
Estelle has participated in the popular historical documentary "Secrets d'Histoire" on France 2, the BBBC's "The Boleyns: A Scandalous Family", BBC Radio 4, and numerous podcasts (BBC History, Viral History, Hidden Stories with Helen Carr for HistoryHit).
Estelle is currently a Lecturer in Early Modern History at New College of the Humanities at Northeastern where she teaches courses on Early Modern Britain, Early Modern Europe, and the Early Modern World. Her book "Blood, Fire and Gold: the story of Elizabeth I and Catherine de Medici" was published by Ebury in June 2022.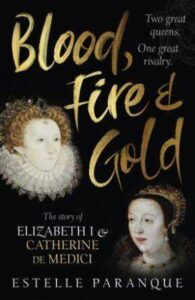 Register now for the Elizabeth I online event at https://claireridgway.com/events/elizabeth-i-the-life-of-gloriana-the-virgin-queen-online-event-7-16-september-2022/. Don't miss it!