Interview with historical novelist Wendy J Dunn
Posted By Claire on June 6, 2019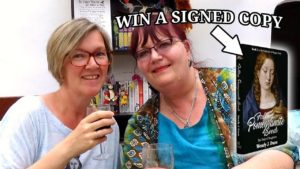 Tim and I have had the pleasure of hosting our dear friend, historical novelist Wendy J Dunn, at our home in Spain as part of her research trip to Spain and the UK. It was lovely having her here, and my daughter, Verity, and I enjoyed our day with Wendy at the Alhambra in Granada – blue skies, sunshine, the stunning Nasrid Palaces and Generalife Gardens…. perfect!
I thought I'd take advantage of having Wendy here to interview her, i.e. grill her! She's a fascinating lady. I thought you'd be as interested as I was in her answers to my questions so Tim videoed Wendy and I chatting about her work, her books etc. I do hope you enjoy it.
Wendy's novels are excellent reads and one lucky Anne Boleyn Files follower will win a signed copy of Wendy's Falling Pomegranate Seeds: The Duty of Daughters. All you have to do to be in with a chance of winning Wendy's book is to leave a comment below this post saying which historical character you'd like to write a novel about and why. You must leave your comment between now and the end of Tuesday 11th June. A comment will be picked at random and the winner contacted for their postal address (please make sure your email address is correct!). The competition is open internationally.
Good luck!