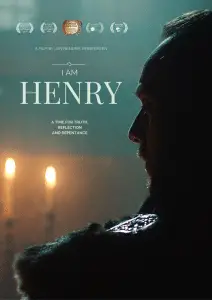 I was thrilled to be offered the chance to review the British short film "I am Henry" which has recently won six awards at the Los Angeles Cinema Festival of Hollywood. I'd been desperate to see it since viewing the trailer.
The setting for "I am Henry" is Syon Abbey. Henry VIII's body is resting at the abbey overnight, surrounded by candles and guarded by a monk, while on its journey from Whitehall Palace to Windsor Castle for burial. At Syon, Henry's spirit meets those of Anne Boleyn, Catherine of Aragon and Henry, Duke of Cornwall, his short-lived son by Catherine, who are keen to share their thoughts on him. Henry, of course, cannot help but confront them and put forward his own point of view.
The setting is atmospheric, with the candlelight and shadows, and the acting is superb. I know that there were various comments on social media about the actress playing Catherine, and how she was dark-haired and dark-eyed rather than fair, but her acting more than made up for this small 'niggle'. Her grief over her lost children was palpable. I loved the scene between Catherine, Henry and the adult spirit of Henry, Duke of Cornwall, who died when he was just fifty-two days old. I don't want to give away too many details, but it was a very poignant scene with the young duke showing love and respect for his father and advising his father to take the love of his dead children and to find his peace. Beautiful.
Of course, the scenes between Henry and Anne Boleyn were incredibly emotionally charged. They had always had a volatile relationship and death was not going to get in the way of that! What I loved about the scenes between them was Anne's reliance on her personal faith, and the strength of that, which was contrasted with Henry's self-importance. Anne was concerned with salvation, Henry was concerned with the law and protecting himself and his country.
My favourite scene was Anne remembering her execution. Fleur Keith's rendition of her execution speech was beautiful and the way that it flashed between Anne at her execution and the spirit of Henry was so powerful. Was Henry finally realising what he'd done? Was he repenting?
I truly loved the film. Little touches, like quotations from Henry VIII's love letters to Anne Boleyn, showed just how much research had been done to make this film 'real'. One can imagine Henry's spirit struggling with what he'd done in his life, but I felt that here he was being offered the chance of peace and salvation if only he'd submit to it and repent.
I can't quite believe that all that was packed into a film of just under 24 minutes. Such a lot was said and portrayed in just a few words. "I am Henry" more than deserves its awards, it was powerful and poignant.
Here is the trailer:
You can find out more about the film at http://flyingdutchmanfilms.org/category/i-am-henry/. The film is currently doing the film festival circuit but it is hoped that it will be the first episode in a series for online download or TV.