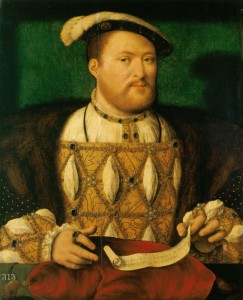 On this day in history, 15th January 1535, King Henry VIII proclaimed that he was now Supreme Head of the Church of England. Here is the record from Letters and Papers:
"Memorandum that the King in his privy chamber, 15 January 26 Hen. VIII., in presence of Sir Thos. Audley, lord Chancellor, Thos. duke of Norfolk, treasurer of England, Thos. earl of Wiltshire, keeper of the Privy Seal, Thos. Crumwell, chief secretary, and others, ordained that his style should henceforth be 'Henricus Octavus, Dei gratia Angliæ et Franciæ Rex, Fidei Defensor et Dominus Hiberniæ, et in Terra Supremum Caput Anglicanæ Ecclesiæ.'"1
The Act of Supremacy had been passed in November 1534 and it had declared "Albeit the Kynges Majestie justely and rightfully is & oweth to be supreme hede of the Churche of England and so is recognysed by the Clergy of the Realme in their convocacions."2 The Act came into force in February 1535.
Also on this day in history…
1559 – Coronation of Queen Elizabeth I at Westminster Abbey. Click here to read more about it.
1569 – Death of Catherine Knollys (née Carey), wife of Sir Francis Knollys and daughter of Sir William Carey and Mary Boleyn. Queen Elizabeth I was grief-stricken at the death of her cousin and friend, and gave her a lavish funeral at Westminster Abbey. Some believe Katherine to have been the illegitimate daughter of Henry VIII. Click here to read more.
Notes and Sources
Letters and Papers, Foreign and Domestic, Henry VIII, Volume 8, January-July 1535, 52.
The Acts and Monuments of John Foxe: a New and Complete Edition: with a preliminary dissertation by the Rev. George Townsend, ed. Rev. Stephen Reed Cattley, p. 69.