24 January 1536 – "A miracle he was not killed"
Posted By Claire on January 24, 2016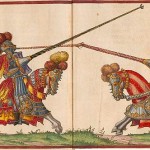 On 24th January 1536, at a joust at Greenwich Palace, fourty-four year-old King Henry VIII suffered a fall, either falling from his horse or his horse stumbling and both of them falling.
The primary sources differ over exactly what happened and the seriousness of the accident. Although some history books, websites and programmes suggest that Henry VIII suffered a serious head injury which may have caused a personality change, two out of three accounts of the accident say that the king was not seriously hurt. You can read the primary source accounts in my article from last year – click here. I'd love to know your thoughts on this.
You can read Sarah Bryson's article on jousting, and what it involved, over at the Tudor Society website – click here.
While we're on the subject of jousting, also on this day in history on 24th January 1555, in the reign of Queen Mary I, there was a great joust held at Westminster between English and the Spanish knights. The diarist Henry Machyn records that there was "grett ronnying at the tylt at Westmynster, with spayrers [spears], boyth Englys men and Spaneards".