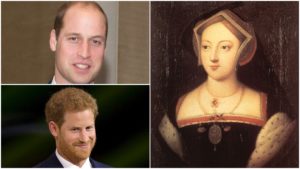 Yesterday, on Facebook, I shared the news that Prince Harry, Duke of Sussex, and his wife, Meghan, are expecting their first child. I shared it saying that "the Boleyn bloodline continues" and I just wanted to write this article to explain this in more detail as I received lots of questions yesterday.
If you've been following the Anne Boleyn Files page, you may remember that I wrote an article back in 2015 about how our present queen, Queen Elizabeth II, is descended from Mary Boleyn. You can read that article here. So there is a line of descent from Mary Boleyn to Prince William, Duke of Cambridge, and Prince Harry (or Henry to call him his proper name!), Duke of Sussex, as they are obviously the queen's grandsons. Here is the line from Mary Boleyn to Charles, Prince of Wales, the princes' father:
(Just to clarify how it works, it's a written bloodline rather than a family tree, as that woukd be very big and complicated, so I only mention the relevant people in the bloodline. Mary Boleyn married William Carey and they had a daughter, Catherine, who then had a daughter Lettice, who had a son Robert, who had a daughter Frances, and so on, all the way to the present day.)
Mary Boleyn (d. 1543) m. William Carey
Catherine Carey (c.1524-1569) m. Sir Francis Knollys
Lettice Knollys (1543-1634) m. Walter Devereux, 1st Earl of Essex
Robert Devereux, 2nd Earl of Essex (1565-1601) m. Frances Walsingham
Frances Devereux (1599-1674) m. William Seymour, Duke of Somerset
Jane Seymour (1637-1679) m. Charles Boyle, 3rd Viscount Dungarvan
Charles Boyle, 2nd Earl of Burlington (d. 1704) m. Juliana Noel
Richard Boyle, 3rd Earl of Burlington (1695-1753) m. Dorothy Savile
Charlotte Elizabeth Boyle (1731-1754) m. William Cavendish, 4th Duke of Devonshire
Dorothy Cavendish (1750-1794) m. William Cavendish-Bentinck, 3rd Duke of Portland, Prime Minister
Lieutenant-Colonel Lord Charles Bentinck (1780-1826) m. Anne Wellesley (Lady Abdy)
Reverend Charles Cavendish-Bentinck (1817-1865) m. Carolina Louis Burnaby
Cecilia Nina Cavendish-Bentinck (1862-1938) m. Claude Bowes-Lyon, 14th Earl of Strathmore and Kinghorne
Elizabeth Bowes-Lyon, Queen Elizabeth the Queen Mother (1900-2002) m. King George VI
Queen Elizabeth II (1926- ) m. Prince Philip of Greece and Denmark, now known as Prince Philip, Duke of Edinburgh
Charles, Prince of Wales (1948- ) m. Lady Diana Spencer (1961-1997)
Prince William, Duke of Cambridge (1982- ) and Prince Harry, Duke of Sussex (1984- )
What's interesting, though, is that Princes William and Harry are also descended from Mary Boleyn through their mother's Spencer line:
Mary Boleyn (d. 1543) m. William Carey
Henry Carey, 1st Baron Hunsdon (1526-1596) m. Anne Morgan
Robert Carey, 1st Earl of Monmouth (c. 1560-1639) m. Elizabeth Trevannion
Thomas Carey of Sunninghill Park (d. 1634) m. Margaret Smith
Elizabeth Carey, Viscountess Mordaunt (1632-1679) m. John Mordaunt, 1st Viscount Mordaunt
Brigadier-General Lewis Mordaunt (d. 1713) m. Mary Collyer
Anna Maria Mordaunt (d. 1771) m. Stephen Poyntz
Margaret Georgiana Poyntz, Countess Spencer (1737-1814) m. John Spencer, 1st Earl Spencer
George Spencer, 2nd Earl Spencer (1758-1834) m. Lady Lavinia Bingham
Frederick Spencer, 4th Earl Spencer (1798-1857) m. Adelaide Horatia Seymour
Charles Spencer, 6th Earl Spencer (1857-1922) m. Hon. Margaret Baring
Albert Spencer, 7th Earl Spencer (1892-1975) m. Lady Cynthia Hamilton
John Spencer, 8th Earl Spencer (1924-1992) m. Frances Roche
Diana, Princess of Wales ((1961-1997) m. Charles, Prince of Wales
Prince William, Duke of Cambridge (1982- ) and Prince Harry, Duke of Sussex (1984- )
Prince William married Catherine Middleton in 2011 and they have three children: Prince George (b. 2013), Princess Charlotte (b. 2015) and Prince Louis (b. 2018). Prince Harry married Meghan Markle in 2018 and they are expecting their first child in Spring 2019. The Boleyn bloodline continues!
Yesterday, I was also asked whether the Tudor bloodline continues and it does. The Tudor dynasty ended with Elizabeth I in 1603 because she died childless, but Henry VIII had two sisters, Margaret and Mary, and their bloodlines continued. For example, our present queen descends from Margaret Tudor.