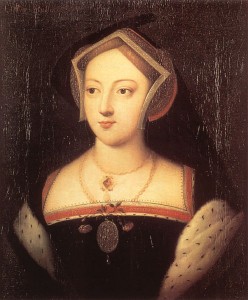 Before I begin this post properly, I just wanted to say a big thank you to those of you who have commented or sent me messages wondering where I am. I really am very grateful for your concern. I've been having problems with my vision, meaning that I have to keep resting my eyes. I'm not able to research or write properly at the moment but I'll get there! These things are sent to try us, or to make us review our work habits!
Anyway, back to history!
On this day in history, 19th July 1543, Mary Stafford (née Boleyn), wife of William Stafford, died. She was in her early 40s.
Mary was the daughter of Thomas Boleyn, Earl of Wiltshire and Ormond, and his wife, Elizabeth Howard. She was the granddaughter of Thomas Howard, 2nd Duke of Norfolk, and was also the sister of the late Queen Anne Boleyn and George Boleyn, Lord Rochford. At the time of her death, Mary was married to William Stafford, but had previously been married to William Carey, a member of Henry VIII's Privy Chamber and an Esquire of the Body. She had two children during the course of her first marriage: Catherine, born in around 1524, and Henry, born in 1526. Carey died of sweating sickness in June 1528 and Mary went on to marry Stafford secretly and without her family's permission in 1534.
Picture: Portrait of an unknown woman thought by some to be Mary Boleyn, Hever Castle.