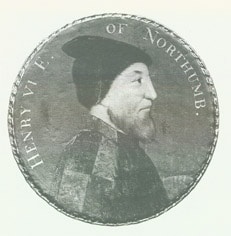 My dear friend, historian and author Gareth Russell, has written an article for Tudor Life magazine which I know will be of real interest to Anne Boleyn Files followers and which you can all read as it's part of the teaser/taster of the February magazine, available at https://www.tudorsociety.com/tudor-life-february-2016-taster/.
Now, most of us are very well aware of the controversial theory put forward by historian Retha M. Warnicke, and publicised in novels like The Other Boleyn Girl, regarding Anne Boleyn being surrounded by a circle of homosexual men, but, as Gareth states in his article "His Dear Bedfellow – The debate over Harry Percy", "Less well-known is the theory that Anne Boleyn's most famous early love interest, Lord Henry Percy, later 6th Earl of Northumberland, might also have been involved in an homosexual relationship with Catherine Howard's future brother-in-law, Sir Thomas Arundell." Gareth talks us through the 'evidence' that is used to back up this theory, which comes down really to the use of one word. Don't you just wish that those Tudors could have clarified what they meant?!
I had never come across this theory so I found the article an interesting read.