Henry and Anne: The Lovers Who Changed History TV Programme
Posted By Claire on February 20, 2014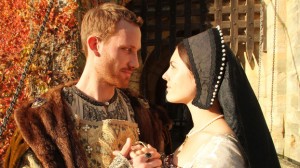 Those who have access to UK TV will be able to watch this new two-part series, Henry and Anne: The Lovers Who Changed History, presented by historian Suzannah Lipscomb. The first part is on Channel 5 tonight at 8pm and the second and final part will be aired on 27th February. Here's the blurb:
"Historian Dr Suzannah Lipscomb unfolds the extraordinary story of the tumultuous love affair between Henry VIII and Anne Boleyn, and asks: was it really love that brought them together – and was it love that tore them apart?
Illustrated with sumptuous dramatic reconstructions, drawing on first-hand accounts from the time, and visiting the places where Henry and Anne lived, loved and fought, this series delves into this passionate and volatile relationship – one which would send a queen to her death, divide England from Europe, and trigger centuries of years of discord and conflict.
Suzannah's journey will take her from Anne's childhood home at Hever Castle in Kent to the French palace where, some say, she learned the art of love. She will also visit Hampton Court, where Henry built the Great Hall for his new queen, and the Tower of London, where he had her beheaded.
She will argue against many of the established theories and notions about Henry and Anne, telling a very different story of their tragic marriage while attempting to answer many of the questions that are still fiercely debated. Was Henry really as monstrous as he is often portrayed? Was Anne a cunning, deviant woman who used her feminine wiles to manipulate a king? And why was a king prepared to bet the future of his nation on a queen whom he would so rapidly destroy?"
Those who saw the play "Fallen in Love: The Secret Heart of Anne Boleyn" will recognise Emma Connell, who played Anne in that play and who plays Anne in this series.
I will be making notes and publishing them here on The Anne Boleyn Files for those of you who can't watch it.
See www.channel5.com/shows/henry-anne-the-lovers-who-changed-history/articles/about-the-show for more information on the programme.