Claire | September 14, 2023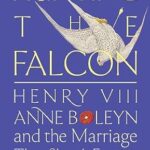 My latest book review is on Hunting the Falcon: Henry VIII, Anne Boleyn and the Marriage That Shook Europe by historians John Guy and Julia Fox.
A big thank you to Bloomsbury for sending me a review copy and for doing this giveaway. Bloomsbury are giving away 5 copies of Hunting the Falcon! The giveaway is open internationally. All you have to do is leave a comment below this post saying why you're looking forward to reading this book.* Comment before the end of Friday 22nd September 2023. I'll pick 5 comments at random, using Random.org, and I'll contact the winners for their details.