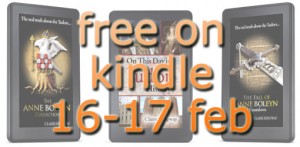 To celebrate The Anne Boleyn Files' 4th birthday on 17th February I am listing the Kindle version of ALL three of my Tudor history books for free this weekend, 16th and 17th, on all of the Amazon websites. That means that you can get On This Day in Tudor History, The Fall of Anne Boleyn: A Countdown and The Anne Boleyn Collection for nothing!
Obviously many of you have already got my books, but I do hope you'll spread the word and let friends and family know. I want my books to be read and enjoyed.
Am I mad? Yes, but then I think you knew that already. This is just my way of celebrating and of saying thank you to you all for the ongoing support that I receive. Without you, I would never have written and published these books. Of course, it also gets the word out about my books.
Here are the links for my author page on the Amazon US and UK sites, but the books are also available on the other Amazon sites, just search for my name, Claire Ridgway:
Be in with a chance of winning a $25 Amazon gift card (or £15 for Amazon UK) by sharing this post, my Facebook posts or Tweets to do with this offer. Simply let me know what you've done in the comments below this post. The lucky winner will be chosen via Random.org and announced on Tuesday 19th February.
P.S. I'd love an Amazon review if you have the time when you're finished! Thank you!
P.P.S. Don't have a Kindle? Well, you can download the Kindle on your computer, tablet or mobile device, or you can use the free program Calibre to change the Kindle file to a suitable file for your e-reader. Author Elena Aitken has instructions for this on her blog – see No Kindle No Problem.