George Boleyn Virtual Book Tour and Giveaway – Day 6
Posted By Claire on June 2, 2014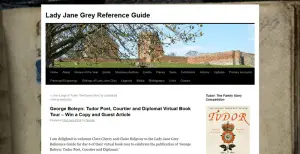 After a well-earned rest after last week's virtual globe-trotting, Clare and I are back on our book tour for George Boleyn: Tudor Poet, Courtier and Diplomat. Today, we visit Tamise at Lady Jane Grey Reference Guide to share how we actually came together to write this biography.
This is your sixth chance to win a copy of the book, so do pop over to Lady Jane Grey Reference Guide, read the article and then follow Tamise's instructions for the giveaway – click here. Thank you so much to Tamise for hosting us on her blog.
You can see the full schedule of our 11 day book tour at George Boleyn Virtual Book Tour 26 May-7 June 2014 and you can find out more about the book and view articles and videos over at www.GeorgeBoleyn.com.