Posted By Claire on May 23, 2014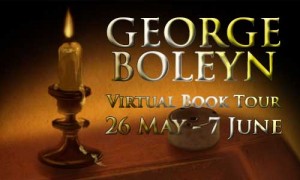 To celebrate the publication of our book George Boleyn: Tudor Poet, Courtier and Diplomat, Clare Cherry and I are embarking on a virtual book tour which will see us visiting 11 different historical blogs. At each stop, we will be giving away a copy of our book, as well as sharing an article or Q&A session.
Here is the schedule:
We'd just like to say a big thank you to Sarah, Olga, Barb, Susan, Beth, Tamise, Natalie, Bridgett, Lara, Darren & Emma, and Gareth for hosting us on their blogs, it's lovely to have such support. I do hope you will follow our tour and take part in the giveaways – see you there!
George Boleyn: Tudor Poet, Courtier and Diplomat by Clare Cherry and Claire Ridgway was released in April 2014 and is available from the following book retailers or your local bookstore. Its ISBN is 978-8493746452.
You can find out more about the book and view articles and videos over at www.GeorgeBoleyn.com.