Posted By Claire on March 3, 2015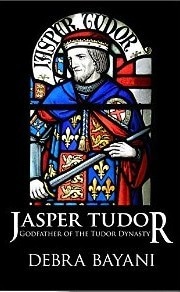 MadeGlobal Publishing has just published a fully revised edition of Debra Bayani's excellent biography of Jasper Tudor, uncle of and adviser to Henry VII.
Jasper Tudor: Godfather of the Tudor Dynasty is now available as both a paperback and kindle edition. Revisions include editing, updates and larger, clearer images. The kindle edition has colour images for those with colour kindles, like the Kindle Fire. Debra and the MadeGlobal team have worked really hard on it and it's a wonderful book.
Congratulations Debra!
Book details
New, fully revised and edited edition.
Jasper Tudor, born in secrecy in 1431, rose to become one of the key supporters of King Henry VI during the difficult period of English history known as the Wars of the Roses. Devoted to the Lancastrian cause and to his nephew Henry Tudor, Jasper's loyalty led him through a life full of adventure.
When he was just six years old, Jasper's life was changed dramatically by the death of his mother, the dowager queen Katherine de Valois, and the arrest of his father Owen Tudor soon afterwards. Jasper and his older brother Edmund were called to court and by 1452 they became the first Welshmen to be elevated to the English peerage. Sadly, Edmund died in captivity in 1456, leaving Jasper to protect his brother's child, the future king Henry VII.
Jasper's dedication to the Lancastrian cause took him through many of the well-known battles of the Wars of the Roses, including the historic victory at Bosworth. It is clear that Henry VII owed an enormous part of his success in claiming the throne in 1485 to his uncle, who was his closest adviser, confidante and mentor.
In this detailed biography, Debra Bayani clearly shows that Jasper Tudor was a key figure in the tumultuous history of England, detailing his life from his birth in 1431 to his death in 1495. He can rightly be called the "Godfather of the Tudor Dynasty".
This edition includes a comprehensive appendix with contemporary Welsh poems translated into English for the first time, and many full page illustrations.
Paperback: 358 pages
Publisher: MadeGlobal Publishing (February 27, 2015)
Language: English
Kindle file size: 12461 KB
ISBN-10: 8494372106
ISBN-13: 978-8494372100
Amazon links:
It is also available on the other Amazon international sites and will be rolling out to other online book retailers and bookshops in due course.
The kindle version is available through Kindle Unlimited and to borrow for Amazon Prime members.