Executed Queens Tour Day 3 – Sheffield Manor Lodge
Posted By Claire on June 12, 2012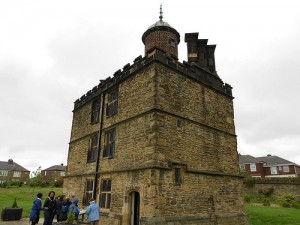 Here's Tim's diary entry for day three of the Executed Queens Tour…
What a moving day we've had on the Executed Queens Tour today. Our day visit was to Sheffield Manor Lodge on the site of a once huge deer park around Sheffield. Although the large part of the Manor Lodge is actually in ruins, it is an amazing place to visit. First some of the history…
Mary Queen of Scots was held in these buildings and actually spent the largest part of her life in Sheffield. While there she spent much of her time doing beautifully decorative embroidery with Bess of Hardwick. We also learned about the last few weeks of the life of Cardinal Wolsey, who spent two weeks in Sheffield Manor Lodge suffering from dysentry while on his way to London under arrest. Sadly, four days after Wolsey left Sheffield, he died of the illness. Not a nice way to end your days. But we saw where he stayed and even where the "garderobe" was too.
The climax to the day was our visit to the turret house, or gate house as it was in the time while Mary was held under house arrest. This building is said to be the only roofed building in existence today which Mary would still recognise. It was most likely built while she was actually staying at Sheffield, and it is also possible that she had a design in the absolutely stunning Tudor plaster sculpted ceilings. It is so amazing that this roof is still in existence, and it looks as good as new!
Our evening event was a talk on Lady Jane Gray by Leanda de Lisle. Leanda was lovely as usual, and really helped us to understand the politics leading up to the tragic few days that Jane was queen. It was also fascinating to hear about Jane's sisters and what happened to them both, before and after the execution of Jane. It was an amazing tale!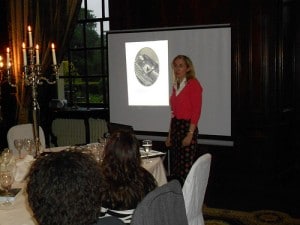 Tomorrow we check out of Coombe Abbey and we are off to Hever Castle in Kent. Can't wait!
Sheffield Manor Lodge Photos:
http://www.flickr.com/photos/theanneboleynfiles/sets/72157630042176699/
Leanda de Lisle Photos
http://www.flickr.com/photos/theanneboleynfiles/sets/72157630044417725/