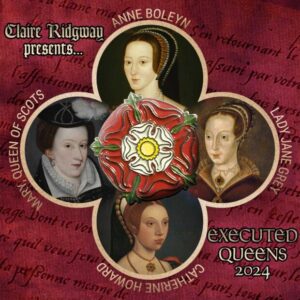 My 10-day online event "Executed Queens" is now open for registration!
Join me, Gareth Russell, Dr Nicola Tallis, Dr Linda Porter, Dr Johanna Strong and Amanda Glover as we explore the lives of four queens who met their ends at the hands of the executioner and who still fascinate us well over 400 years after their awful fates: Anne Boleyn, Catherine Howard, Lady Jane Grey and Mary, Queen of Scots.
Celebrate their lives and find out how these women came to their tragic ends in ten days of expert talks and interactive zoom video Q&A sessions.
You can find out more and register with a special early bird discount (coupon code EBQUEENS) at https://claireridgway.com/events/executed/. Our zoom discussion calls start in December! I just love talking Tudor to other Tudor history lovers!
Please do consider joining us. This will be my last event for a while as I'm going to take a bit of a break.
**Everything will be recorded for those who can't make the dates and times. You will have lifetime access to the recordings.**