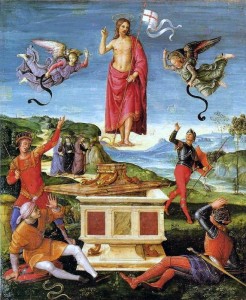 According to the Gospel of John, it was on the first day of the week, the Sunday following Christ's crucifixion on the Friday, that Mary Magdalene came to Christ's sepulchre and found that the stone sealing it had been rolled away. She ran to tell the disciples and came across Peter and John, telling them "They have taken away the Lord out of the sepulchre, and we know not where they have laid him." Peter and John hurried to the sepulchre and found nothing but the linen cloth that the body had been wrapped in.
The disciples went home, but Mary remained at the Sepulchre weeping. Two angels then appeared to her, one sitting where Christ's head had lain and the other where his feet had been. They asked why she was weeping and she explained. As she turned back towards them, there was Jesus. She didn't recognise him for a minute, but when he said her name she knew who he was. He told her: "Touch me not; for I am not yet ascended to my Father: but go to my brethren, and say unto them, I ascend unto my Father, and your Father; and to my God, and your God." So Mary went to the disciples and told them the news.
That evening, Jesus appeared to the disciples in their home and said "Peace be unto you: as my Father hath sent me, even so send I you." He then breathed on them, telling them to receive the Holy Spirit and saying "Whose soever sins ye remit, they are remitted unto them; and whose soever sins ye retain, they are retained."
One of the disciples, Thomas, called Didymus, had not been with the others when Jesus appeared to them and he doubted their story, saying "Except I shall see in his hands the print of the nails, and put my finger into the print of the nails, and thrust my hand into his side, I will not believe." Eight days later, Jesus appeared to the disciples again and said to Thomas: "Reach hither thy finger, and behold my hands; and reach hither thy hand, and thrust it into my side: and be not faithless, but believing." Thomas replied "My Lord and my God". He believed. Jesus then said to him "Thomas, because thou hast seen me, thou hast believed: blessed are they that have not seen, and yet have believed."
Christians all around the world celebrate Christ's resurrection and what it means to them on Easter Sunday. Tudor people also celebrated it. On Easter Sunday, the candles in the church and around the special Easter sepulchre were extinguished, and then the church lights were re-lit by the priest, from a fire. The sepulchre, which had been sealed on Good Friday and which contained the consecrated Host and an image of Christ, was opened and Christ's resurrection was celebrated with a special mass.
The Easter Sunday mass marked the end of Lent, a period where people's diets were restricted, so it was only natural to celebrate it with good food. Dairy products and meat were back on the menu, and people enjoyed roasted meats like chicken, lamb and veal.
At Easter 2014, Tim and I took our family and friends to see a re-enactment of The Passion and you can see Tim's wonderful photos in my Easter article from that year – click here.
Christ is risen!
Do you do anything to celebrate Easter? What are your traditions?
Image: Raphael's Resurrection of Christ.
Bible source: John 20, King James version.