Posted By Claire on April 20, 2014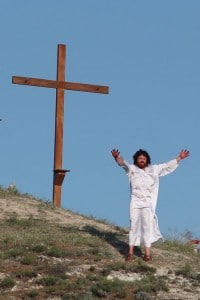 On Easter Sunday, in Tudor times, the candles in the church and around the sepulchre were extinguished, and then the church lights were re-lit by the priest, from a fire. The sepulchre was opened, and Christ's resurrection was celebrated with a special mass.
The Easter Sunday mass marked the end of Lent, a period where people's diets were restricted, so it was only natural to celebrate it with good food. Dairy products and meat were back on the menu, and people enjoyed roasted meats like chicken, lamb and veal.
On Good Friday, I went to "La Semana Santa Viviente de Cuevas del Campo" (the living Holy Week of Cuevas de Camp), a village just over an hour away from me. Every year, on Maundy Thursday and Good Friday, the villagers re-enact the Easter story, from Christ's triumphant entry into Jerusalem to the resurrection. Tim and I took our children and some friends to see it, and we're so glad we did. It was incredibly moving and brought the Easter story to life. It ended with Jesus appearing on the hill by the empty cross and releasing a white dove. Christ is risen! Hallelujah! Happy Easter to you all!