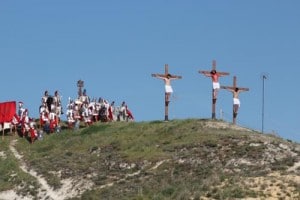 Today, 25th March, is Good Friday according to the Western/Gregorian calendar and it is the day that commemorates the crucifixion of Christ, his sacrifice in dying for our sins.
In Tudor times, people would attend church on this day for the ceremony of the "Creeping to the Cross". The clergy would get down on their hands and knees in the church and "creep", or rather crawl, up to a crucifix held before the altar. When they reached the crucifix, they would kiss the feet of Christ. After the clergy had kissed the feet, it was time for the crucifix to be taken down into the church for the people of the congregation to also kiss Christ's feet.
Good Friday was also the day on which the Easter Sepulchre was prepared. The sealed tomb that Christ's dead body was laid to rest in was symbolised by using a wooden or stone niche in the church, filling it with the consecrated Host and an image of Christ, and then 'sealing' it by covering it with a cloth. Candles were then placed around it and lit, and members of the congregation would take it in turns to guard it, like the Roman soldiers guarded the tomb of Christ, until the sepulchre was opened up on Easter Sunday.
Today is also Lady Day, or the Feast of the Annunciation of the Blessed Virgin, which was a feast day commemorating the day that the Virgin Mary was first told by the Angel Gabriel that she was carrying Jesus. It is, of course, nine months before Christmas Day, the day on which Christ was born.
Lady Day was also the start of the new calendar year in medieval and Tudor times – click here to read more about this.
Photo: Taken by Tim Ridgway at "La Semana Santa Viviente de Cuevas del Campo", Easter 2014