This beautiful carving of the Dudley coat of arms is thought to have been made by John Dudley, son of John Dudley, Duke of Northumberland, who died on this day in 1554 shortly after his release from the Tower of London.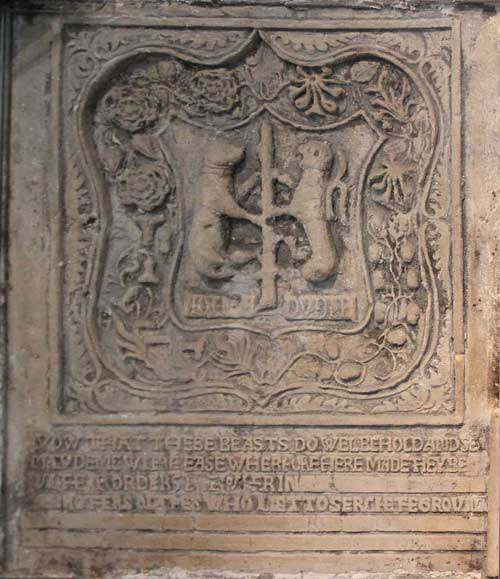 John is said to have carved the coat of arms into the stone wall of the Beauchamp Tower of the Tower of London when he, his brothers and father were imprisoned there after the fall of Lady Jane Grey, wife of John's brother, Guildford. The carving features the bear and ragged staff (the badge of the Earls of Warwick), the double-tailed lion rampant (badge of the Dudley family) and a floral border with oak leaves and acorns for Robert Dudley (Quercus robur is the Latin for English oak), roses for Ambrose Dudley, honeysuckle for Henry Dudley (Lonicera henryi) and Gilly Flower for Guildford Dudley.
The inscription reads:
"You that these beasts do wel behold and se, may deme with ease wherefore here made they be, with borders eke within [there may be found] 4 brothers names who list to search the ground."
It is a breathtakingly beautiful carving and is one of my favourites, along with Anne Boleyn's falcon badge. The carving appears in my latest book The Anne Boleyn Collection II.
John died at Penshurst, the house of his brother-in-law Henry Sidney, in Kent.