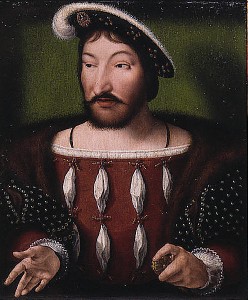 On Friday 25th October 1532, Henry VIII and Francis I left Boulogne, where Henry VIII had been Francis's guest at the French court, to go to Calais and there meet with Anne Boleyn, Marquis of Pembroke.
Chronicler Edward Hall writes of how Francis I was accompanied by a train of twelve hundred people and many horses, and Wynkyn de Worde records that Francis had 300 mules "laden with stuffe". As the Kings neared Calais, they were met by the Duke of Richmond, Henry VIII's illegitimate son, and a company of bishops and noblemen. When they entered the town, the French party were greeted by a 3,000 gun salute before the French king was taken to his lodgings at Staple Hall.
Edward Hall describes how Francis I's lodgings were "hanged with so rich verdore, as hath not been seen, the ground of it was gold and damaske, and all ouer the tuftes and flowers, were of Satten, Silke and Siluer, so curiously wrought that they seined to growe, euery chamber was richer, and other: the second chamber all of Tissue, with a clothe of estate of nedle worke, set with great Roses of large pearle. The third was hanged with Veluet, vpon veluet pirled grene and Crimosyn, and embraudered ouer with braunches, of flowers of Gold Bullion, and garnished with armes and beastes of thesame gold, set with pearle and stone." He goes on to say that the food was just as sumptuous; Francis I was fed wild fowl, venison and fish, amongst other things, "and as for wine they lacked none."
After his arrival in Calais, Francis I sent Anne Boleyn a diamond via the Provost of Paris, but she was nowhere to be seen. She was waiting to make a dramatic entrance on the 27th October.
Also on this day in history…
1529 – Sir Thomas More became Henry VIII's Lord Chancellor. Cardinal Wolsey had been forced to surrender the Great Seal to the Dukes of Norfolk and Suffolk at his house in Westminster, in front of Sir William Fitzwilliam, John Tayler and Stephen Gardiner on the 17th October. The seal was then delivered by Tayler to the King at Windsor on the 20th October. According to Letters and Papers, the seal was delivered to Sir Thomas More by the King himself on the 25th, and Sir Thomas More took the oath of Chancellorship the following day.
1536 – Four Chaplains of Poverty were appointed by the Pilgrimage of Grace rebels: Barnard Townley (Chancellor to the Bishop of Carlisle and Rector of Caldbeck), Christopher Blenkow (Vicar of Edenhall), Christopher Slee (Vicar of Castle Sowerby) and pluralist Roland Threlkeld. The rebels threatened them with execution if they failed in their duty, which was "to instruct the commons 'concerning faith'". Also on this day in 1536, and the following day, a special mass, called the Captains' Mass was performed at Penrith Church. See October 1536 – Pilgrimage of Grace for more information and a timeline of events.
1555 – A worn out Charles V abdicated a number of his titles, giving his son Philip control of the Low Countries.
Notes and Sources