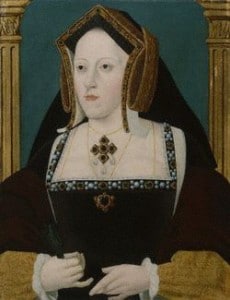 Thank you so much to author Susan Higginbotham for mentioning an interesting blog post on the Oklahoma City Museum of Art's claim, in their "Passages" Bible exhibit, that Henry VIII sent Catherine of Aragon back to Spain and she died there.
Linda, from The Medieval Chronicle Blog, said that she contacted the museum to tell them that the information they were giving visitors was inaccurate, as Catherine died at Kimbolton Castle and was buried at Peterborough Abbey, and the Retail Manager emailed her back, saying "I followed up with our scholars today and they informed me that Catherine of Aragon returned to Spain and died there.  They also informed me that this issue is an issue of scholarly debate and we have chosen this interpretation for the exhibit." Hmmm, so why is she buried in Peterborough then?
I have researched the lives of Henry VIII and his six wives intensively and have read many, many primary and secondary sources and I cannot understand the museum's stand on this issue or where they are getting this information from. All of the historians and experts on Catherine of Aragon I know agree that Catherine died in England. I checked the various chronicles and Holinshed says Kimbolton, Francis Bacon doesn't mention a place but surely would have said Spain if she had died there, Hall says Kimbolton, Wriothesley says "Bugden in Huntingdon shire", which is the area where Kimbolton Castle was, and even The Spanish Chronicle says that Catherine died at Kimbolton Castle and describes Chapuys's visit to her there.
Where on earth has this idea that she died in Spain come from? Anyone know?
Sources