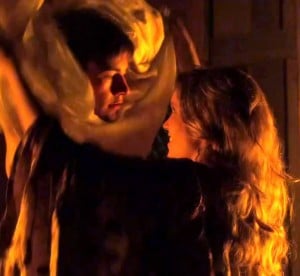 On this day in history, Henry VIII and his fifth wife, Catherine Howard, set off on their royal progress to the North, the aim being to meet Henry's nephew, King James V of Scotland, at York in September and also "to emphasise the extent of his defeat of the Pilgrims [from the Pilgrimage of Grace] and the Percy interest, and to humiliate utterly all but the most clearly loyal elements"1.
The progress was successful in showing the people of Yorkshire that Henry VIII was their King and their master, but the Scottish King stood Henry up and it was on this progress that Catherine Howard decided to amuse herself by having secret assignations with a member of her husband's privy chamber, Thomas Culpeper. Julia Fox, author of "Jane Boleyn: The Infamous Lady Rochford"2, writes of how the lovers were able to meet at night in Lincoln, Pontefract and York, and how they were nearly discovered when Anthony Denny arrived at Catherine's room to fetch her to the King but found her door locked – Catherine was otherwise engaged!
It was Catherine's infidelity with Culpeper which sealed her fate after the King found out about her colourful past, her escapades with Henry Manox and Francis Dereham at Lambeth. Perhaps the King could have forgiven her past but he could not forgive her for cuckolding him and making a fool of him. Catherine was executed on the 13th February 1542 at the Tower of London.
You can read more about Catherine Howard in the following articles:-
Notes and Sources
"Henry VIII's Progress Through Yorkshire in 1541 and its Implications for Northern Identities", Tim Thornton, 2009. Northern history: a review of the history of the North of England., 46 (2). pp. 231-244.
Jane Boleyn: The True Story of the Infamous Lady Rochford, Julia Fox, p293-295 of UK paperback version.